What's Next for 'Mr. Robot' in Season 3?
With Season 2 over, here's what the future could look like for fsociety.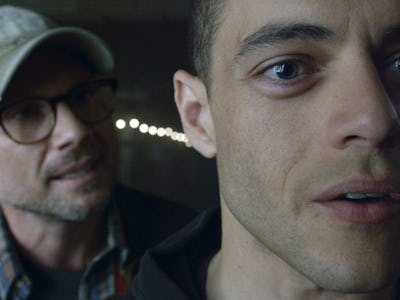 USA Network
The world of Mr. Robot is a bloody mess. At the end of the Season 2 finale, Elliot (Rami Malek) finally understands what Stage 2 is: a bomb plot collaborated between fsociety, the Dark Army, Whiterose (BD Wong), and Tyrell Wellick (Martin Wallstrm), who is very much alive and not a figment of Elliot's imagination. The goal was to prevent E Corp from rebuilding their database that was destroyed in the 5/9 Hack using paper records; because they were assembling the files in a single location, the plan would mean the deaths of innocent people. Elliot tries to stop it, but is shot in the gut by Tyrell, with Mr. Robot (Christian Slater) standing idly by.
Elliot isn't dead, but he's not in a great place either; the FBI is on to him, and he's bleeding everywhere. But there's no Jon Snow-ing here, as we don't have to spend the next year guessing about Elliot's wellbeing. Instead, what is it that Mr. Robot could possibly be about when it returns in 2017?
All the Plots to Remember
In handy bulletpoint form, here is the Mr. Robot's current status quo:
Elliot is bleeding out, and his relationship with Mr. Robot is more strained than ever. Tyrell is continuing Stage 2, which he may have successfully pulled off, considering New York's unstable power blackouts for good.
Angela is now embedded within the Dark Army and Whiterose and is no longer pursuing her vengeance against E Corp. She comes to the aid of Elliot after speaking with Tyrell, but this seems sketchy.
Trenton (Sunita Mani) and Mobley (Azar Khan) are hiding out under new identities (Trenton has ditched her hijab) as employees of a Fry's Electronics. Mobley has discovered something that can "put everything back the way it was", but they're interrupted by Leon (Joey Bada$$), Elliot's prison mate who saved him from assault by white supremacists. He asks them if they have the time. As Leon is in cahoots with the Dark Army and Whiterose, who is obsessed with time, it seems Trenton and Mobley have run out.
Joanna Wellick (Stephanie Corneliussen) learns Tyrell's correspondence was the work of Tyrell's rival, a begrudging and drunk Scott Knowles. Scott attacks her, brutally, but it may have been Joanna's plan all along. She is now setting up her new boyfriend to frame Scott to clear Tyrell's name. She wouldn't be a Wellick if she didn't know what she was doing.
Dom (Grace Gummer) and Darlene (Carly Chaikan) have a shaky partnership, mostly because Darlene can't escape Dom's custody. Still, she seems pretty taken aback learning Tyrell supersedes Elliot in fsociety's chain. A lot of her arc this season was on her faith and relationship with Elliot being the string-puller of fsociety, but now her view has been shattered: "You've gotta be f*ing kidding me."
Philip Price (Michael Cristofer) is trying to make eCoin happen. Stop trying to make eCoin happen, Philip.
A Word About the Real World
Mr. Robot is unique in "Peak TV" in that it is unambiguously cemented in the modern day, although it's quickly becoming a period drama, strangely enough. Season 2 took place in 2015, and it's likely Season 3 will too if it intends to pick up where last night's finale ended.
Either way, Mr. Robot takes cues from the headlines. Before Season 2, series creator Sam Esmail said the show would delve into encryption, a dominant narrative just a few months ago when the FBI wanted Apple to create an all-access key to investigate the San Bernadrino shooter's iPhone. Season 2 did just that, even if Esmail under-delivered on his promise.
With a whole year in between now and Season 3, the news can and probably will inspire Mr. Robot to veer in a bold new direction. Perhaps a Trump Presidency could turn Mr. Robot into exploring Skittles and doomsday plots.
What's Going on in Tech?
A quick look at this fine website's technology coverage could forecast Mr. Robot Season 3.
Given the far-right's fear-mongering over war refugees and immigrants, not to mention Esmail and Rami Malek's own Middle Eastern identities (though Elliot is of mixed race), it's not unreasonable to think Mr. Robot could have storylines around the technology immigrants use and bring with them. (Because, you know, they're human.)
It's a natural progression from the encryption of Season 2, and if the FBI wants to investigate foreign nationals, you can bet they're going to want a peek at immigrants' pockets, especially since the Dark Army is a mostly Chinese organization.
Other recent tech stories have included advancements in robotics, breakthroughs in self-driving cars, and of course, anything to do with the 2016 election. We'll have sworn in a new president by the time Mr. Robot returns, and if America chooses the DayGlo hate-monger, it's totally possible Mr. Robot will want to say something about it.