How This Syrian Family Used a Smartphone to Start a New Life
Smartphones can give refugees unprecedented access to information, but they can also betray secrets.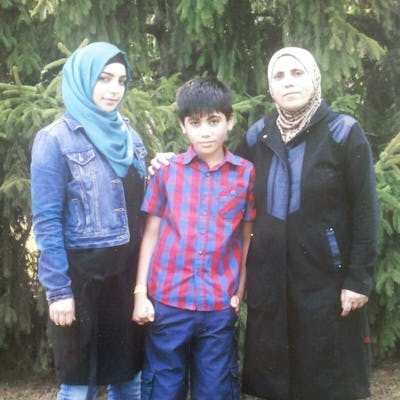 The airstrikes had begun in earnest by the time Sara Bakkar and her four children made the decision to leave their home in Homs, Syria. The city was an important organizing hub in early anti-government protests, and the regime of Bashar al-Assad cracked down on the initially peaceful protests violently, and often indiscriminately.
As in any war, control of information was key. In the final days of November, 2012 – less than a week before Bakkar left – the regime had hit the kill switch on internet access country-wide, so Bakkar's connection with the outside world, and even the rest of Syria, was almost entirely cut off.
It was too dangerous to gather in a crowd for fear that the regime would bomb any large group, so the protests had mostly stopped. The family's first destination was Damascus, the capital, where they wouldn't have to worry about the bombing runs the government carried out over opposition hotbeds. "I was very scared" on the day they left, Bakkar told Inverse in a lengthy phone interview conducted with the aid of an interpreter. They didn't take anything from their house with them – they just fled.
The drive from Homs to Damascus usually takes about two hours. But on December 1, 2012, it took almost five. There were numerous government-controlled checkpoints along the way. "We were even scared to take our mobiles out of our pockets," Bakkar said. "A lot of disappearances happened because the government officials would look into the mobiles of that person and if they see anything fishy, or that makes them think they're anti-government, or a photo of them carrying a weapon — immediately you won't see that person again." Simply having a Facebook account could get someone kidnapped by the government, even they were totally apolitical, Bakkar said.
Bakkar and her children made it to Damascus, then escaped to Lebanon for three days, and then on to Egypt, where they stayed for two years. In 2015, they were resettled in Dearborn, Michigan, where they live now. (They are an example of one of the thousands of families Donald Trump would ban from entering the country if he is elected president.)
In the last 12 months, the Obama administration has resettled 10,000 Syrians in the United States, an increase over the previous four years, which saw the U.S. allow in fewer than 2,000 Syrians in total. Still, that's number is minuscule compared to the overall crisis, which has forced about four million Syrians to flee the civil war. Most have gone to neighboring countries, but many have also made the dangerous trip to Europe.
It wasn't until Bakkar was in Egypt that technology really began playing a leading role in her new life and future. The International Organization for Migration contacted her, and began working on her immigration paperwork. (Bakkar's husband had died a decade earlier, and women-led households often get priority in the resettlement process.) When her IOM case manager told her she'd be going to the United States, she was initially nervous. Then a friend invited her to a Facebook group called Syrians in the United States — it's one of many such support groups on Facebook for Syrian refugees — which helped her familiarize herself with her soon-to-be adoptive country. "I'd see photos of people in cafes, in restaurants, talking about their experiences, and that calmed me down," Bakkar said. "It made me feel more confident about my move in general."
Like most Americans, she uses her smartphone every day. She's got a Samsung now; her Nokia from Syria is long-gone. Her children picked up English quickly, and although she's learning the language she still struggles with some vocabulary. Being able to Google a word in Arabic and get the English pronunciation makes communicating easier. Having GPS in a new city made getting around much easier, too. But Bakkar's digital life does have at least one limitation. "I don't use Yelp," she jokes.
She still has family in Homs, who she stays in touch with using an app called IMO — free video calls and chat — and Skype. "Usually I contact them and they respond three days later, because there's usually no connection," she says. She also uses LINE, another service that provides free calling and texting capabilities.
Still, perhaps the greatest benefit she gets comes from a WhatsApp group for SARN, the Syrian American Rescue Network, a local NGO. The group includes more than 200 Syrians in Michigan alone. "If someone has a problem with accommodation, someone is looking for a room, someone is looking for work, they can send out a message and support each other. And this is also where we tell each other about events that are happening," Bakkar said. "There are a lot of events at the park." Only those who have lived through the war can really understand what Bakkar and her family went through, and having direct access to a community like SARN helps her and her fellow Syrians deal with the lasting trauma of the war.
Bakkar's use of technology to stay connected with her new community, as well as with family overseas, is typical for newly arrived immigrants, especially Syrians, whose friends could be scattered across continents. Corine Dehabey, who is herself Syrian, is the resettlement coordinator at the U.S. Together office in Toledo, Ohio, the only resettlement organization in the city. There have been 115 Syrians who have come to Toledo since the war began, and Dehabey expects that number to rise steadily. Virtually all of them are tech-savvy.
"The minute they get here, they come with a smartphone. The minute they get here they want an internet line, they can't stay without the internet," Dehabey tells Inverse. "The first thing we do is take them to the cell phone store and buy the SIM card for them so they can use their own phones."
Now, Bakkar is helping to ease the fears of her fellow Syrians overseas as they wait to begin their new life in the United States. "I still go on the Syrians in the United States Facebook group, and I shared a bunch of my experiences," she said. "And based on my experience a lot of people have asked me for my phone number, so when they come to the United States they get in touch with me through IMO and Viber." Bakkar has only been here a year, but that's all it took for her to become the new expert.
She's happy here, and even more importantly, her children are happy, too. She and her daughter both wear the hijab, but neither has faced any discrimination since they've been here. "On the contrary, people are very supportive, they're very nice to us, they give us big smiles," she said.
Still, she thinks about her old life often. What does she miss the most? "My home. Where I used to live. My neighborhood," she said, after a long sigh. "A lot. I miss a lot."