Haunting Drone Video Shows Bombed-Out Homs, Syria
The city was under siege from 2011 to 2014.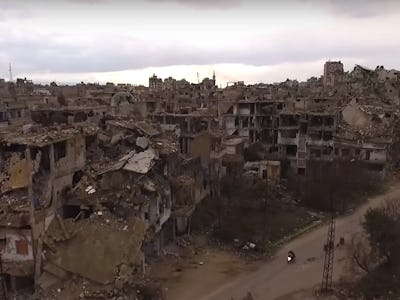 A drone videographer has uploaded haunting images of a ghost city ripped apart by war, the latest example of how the new technology captures destruction in dramatic fashion.
Alexander Pushin, who runs the drone-camera company Russia Works, uploaded this video on Tuesday of the city of Homs, Syria, titled, "Homs after war. Destructions, lonely children.," with this description: "Homs after the war - a few years these areas destroyed radical Islamists and foreign mercenaries. People left this part of the city forever."
A 2004 census counted 652,609 residents in the city and 750,501 in the metro area. Now it appears to be mostly empty, except for a few cars, a motorcyclist, and this trio of kids Pushin's drone films:
During the Syrian Civil War, Homs was a stronghold for anti-government Syrian rebels, with some calling it the "capital of the revolution," and as such, it became a target: A three-year confrontation known as the Siege of Homs took place in the city between 2011 and 2014, with the anti-government rebels, and many others, leaving the city.
In this video from 2014 by the Wall Street Journal, a soldier in the Syrian government's army says that "90 percent of the destruction you've seen is caused by the armed terrorist groups, not the army at all." That's because the rebels rigged the buildings with explosives before the army arrived — and after the government army was in the building, the rebels detonated the bombs, the soldier says.
Here's what Homs looks like in this undated video by Pushin.
We've seen how cameras mounted on drones can capture the aftermath of war zones before. Bombed-out buildings in Pervomaisk, Ukraine were captured by Graham Phillips last fall, who told Inverse that he thinks drone footage "really allows people, at a visceral level, to see the real scene. It conveys what other cameras can't."
Various reports have the number of Syrian refugees at about 4 million people, many resettling in Turkey, Lebanon, Jordan, and Iraq, with others going into Europe, North Africa, and elsewhere. It's clear the people who lived in these buildings in Homs don't have a home to go home to anymore.