'Mr. Robot' Season 2 to Feature Encryption as Major Plot Thread
Creator Sam Esmail reveals to SXSW crowd that tech privacy is on the show's radar, big time.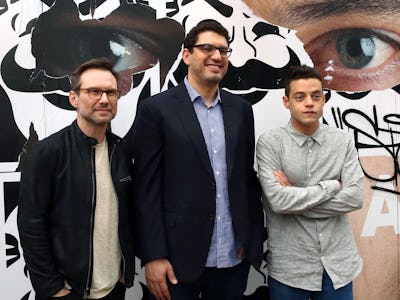 USA
There's been much debate as to what course Mr. Robot will plot in its second season. And, now, we have a considerable lead, courtesy of the show's creator, director, and veritable one-man-band, Sam Esmail. He tells a SXSW audience — basking in the glow of the show's promotional Ferris wheel — that Mr. Robot will incorporate the privacy and encryption debate into its upcoming episodes.
Here, via Variety, is what he has to say about the show continuing to wade into topical waters.
What's weird is we're really going into thematically talking a lot about encryption and privacy, and this whole thing with Apple and Tim Cook happened, which I actually think is a really important issue that we're really going to get into in the next ten years or so. It's not something that I think people really understand the nuances of, but it's going to be interesting public discourse about it, because it really brings up the idea of the rights to privacy and do we have them, do we not?
Esmail goes on to describe how the Mr. Robot team has even spoken with the government contacts in an effort to gain a wide perspective.
We talk to our FBI consultants about this, because they have a very strong point of view that encryption should allow for this third party side door thing, which I'm totally opposed to and on Tim Cook's side — we should have encryption. That was before this whole Apple-FBI thing happened — that was something that was already baked in thematically [on the show]. Privacy is going to be a huge issue in the next decade or two.
There you have it. TBD on how Craig Robinson's character will fit into all of this.