Watch Danny Rand Become "Iron Fist" in the First SDCC Trailer
Another tortured origin story for Luke Cage's main partner? Sign us up.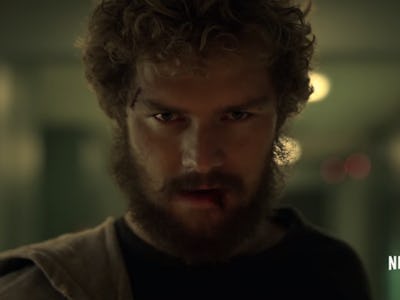 Netflix
New York is about to get a whole lot punchier this fall. Tonight, we got an explosive expansion to the Marvel Cinematic Universe's gritty, Netflix-run properties: Danny Rand. You may know him as Iron Fist. He's here, he has his own show, and boy, does it look punchy.
Danny Rand's backstory is roughly the plot of Batman Begins, only with dragons instead of bats. Nine-year-old Danny Rand has some bad shit happen to his parents, gets trained in ass-kicking from a (questionably tokenized) mystical Asian culture (fine, he can be white as long as we get an awesome Shang-Chi), and then returns to his major city of origin to beat the living crap out of people.
Batman is a rich playboy with has gadgets and gauntlets; Iron Fist is a schlubby college dude with the power to harness the soul of a dragon and punch the heck out of stuff with, well, Iron Fists. We got the first footage from Netflix's newest New York-centric superhero show tonight, and so far, it looks like another hit. Check out the first footage below:
There's a lot of loot from the beautiful Netflix-Marvel pairing this evening: the Luke Cage panel blew the roof off, giving us a fresh look at what could be the best new show on TV, a Daredevil Season 3 announcement, confirmation of a Punisher series, and even a teaser of the Defenders. But even the indestructible Luke Cage can't hold all this hype without his right-hand man Iron Fist. It's all building toward a crazy-intense "Defenders" series, which will see Jessica Jones, Lucas Cage, Daredevil, Iron Fist, mashed into a street-level super-team. Oh yeah, and that got a teaser, too (even if it's just Stick's voice).