'Luke Cage' Will Be the Best Thing on TV When It Debuts September 30
You'll get your Marvel action fix this fall on Netflix.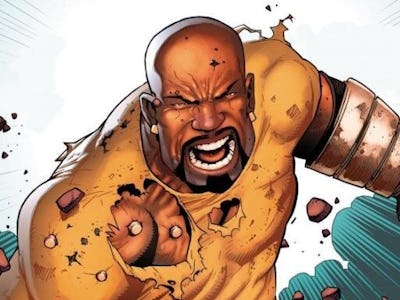 'Luke Cage'
September is one of those months where you're not ready to emotionally bid farewell to the balmy days of summer, but you can't carve pumpkins or binge on Halloween candy yet. It's a straight-up snooze. But at Daredevil's second season premiere this week, Mike Colter, the star of upcoming Marvel series, Luke Cage, gave the world something to look forward to at the end of this low-key month: his new show.
And as it stands, there just aren't any other shows slated for fall that look this good. The Netflix series is a spinoff of Jessica Jones, and Colter played the hunky love interest of the brooding lead. This series boasts a few big names like Rosario Dawson, Mahershala Ali, and Alfre Woodard.
"It's gonna be action packed from the beginning to the very end," said Colter. "Trust me." How could you not trust a man with arms the size of sequoia trunks? The character has been around since 1972, but it'll be fun to see Colter bring his version back to life again on the small screen. While we're not totally convinced that Jessica Jones need a season two, we're eager to see Colter's Cage back in nearly indestructible action this fall. We're also hoping for a Nick Cage cameo.