Star Wars Fans Happy for the "Greatest Vague Tease of All Time"
Darth Vader at the end of 'Rogue One' trailer stokes the flames.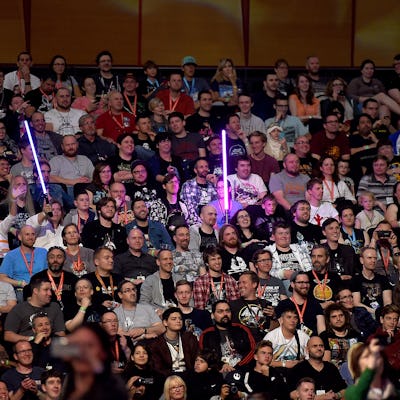 Getty Images / Ben A. Pruchnie
Star Wars Celebration is huge. The Lucasfilm-founded fan convention came back for a third time in Europe this past weekend, and if there's anywhere to sense the mood of a fandom that's again at the top of the culture (apologies to Game of Thrones and Pokémon Go), it was in London this past weekend: panelists included Carrie Fisher, Mark Hamill, and Gareth Edwards, director of Rogue One: A Star Wars Story. There was new footage that shows Darth Vader's reflection. More than 30,000 people showed up. VIP passes sold out fifteen months ahead of the convention. After the movie premieres, it's the biggest thing on the Star Wars calendar.
It starts on a sunny Friday morning as convention-goers pack the Docklands Light Rail trains leading to London's ExCEL exhibition center. Outside, costume-clad cosplayers draw small crowds of their own. Kids rub their eyes in bewilderment, unable to comprehend the idea that a stormtrooper is actually standing right there in front of them.
At the wristband collection table, just past the ticket barriers, a woman interrogates staffer for intel. The panel taking place later will have a new trailer, won't it? "I don't know, I don't know anything," the staffer says with a wry smile.
There's a sense of cautious optimism at the convention. Last year, The Force Awakens opened to warm reviews following a fairly safe structure, resembling something close to A New Hope. Nonetheless, it was a smash hit, grossing over $2 billion worldwide.
It's easy to forget that things weren't always this positive. The George Lucas prequel trilogy left fans sour. A representative critical review might be Peter Bradshaw's in The Guardian, which describe The Phantom Menace as "a pop-culture calamity, a soulless, passionless film whose only real effect was to smudge the happy memories of the three originals."
But with its glowing reviews and warm welcome from fans, The Force Awakens showed that a modern Star Wars film doesn't have to be a let down. It is okay to get excited.
The sequel to The Force Awakens, the eighth film in the series, won't reach theaters until December 2017. Between now and then, the standalone Rogue One will be released in December. Taking place just before the events of A New Hope, the film centers around a group of Rebel fighters aiming to steal the plans for the Death Star. "This takes place just before A New Hope and leads up to the 10 minutes before that classic film begins," The Hollywood Reporter quoted a source from the production.
It hasn't been an easy ride so far. Rogue One has been subject to reshoots, which rumors claim could mean ditching almost 40 percent of shot footage. Director Gareth Edwards and Lucasfilm head Kathleen Kennedy later told Entertainment Weekly that there was nothing to worry about. Films normally build in reshoot time, and it doesn't mean it's time to panic just yet.
On paper, it would seem baffling. A spin-off story, where we know what happens next, with few of the familiar characters (Vader is at least one). For most franchises, this would be a lull, but if anything the crowd seemed to be excited about what new stories may be told. The Force Awakens has established trust. Now Rogue One can be trusted to tell an exciting new story, fans tell Inverse.
"From people I've spoken to, they're very excited about Rogue One. They're more excited about Rouge One than episode eight!," says David Reynolds, 44.
"I think people are quite excited, definitely," says Kayleigh Pelham, 26.
"I think The Force Awakens was a necessary injection of adrenaline into the franchise," says Carl Finnegan, 34.
Restoring faith in the Star Wars franchise isn't just about making a group of rabid nerds happy, though. It's a community that runs deeper than that, one that people dedicate their lives to, one where people make good friends.
The R2 Builders Club is one such community that has borne out of the Star Wars universe. Stay-at-home tinkerers bring their creations to shows like SWCE, where they can demonstrate their handiwork to the big crowd.
The film studios clearly recognize the importance of these communities, reaching out beyond events like SWCE. "Lucasfilm gave us all the noises," says Mike Filippidis, standing proudly next to his droid as an R2-D2 merrily beeps the Cantina theme behind him. "It was a gift to us!"
Paul, 44, is at his first Star Wars event with the club. He helps members out with repairs if needed, and acts as a second pair of eyes for anyone taking their droids out onto the show floor. Although a bit scary at first, he's quickly grown to love it.
"It was a little bit nerve-wracking first thing this morning, but once people start taking pictures and stuff, you just wanna go out there more and more, it's quite a good buzz," Paul tells me.
Repairs are a staple of the club's appearances, and for good reason. The droids are complicated, cost thousands of pounds to build, and susceptible to all manner of faults. "You have to make some maintenance to the droid after every event," says David Bergelv, 41.
It isn't just droid builders that have established unique communities. Cosplay attendees give each other tips about how to perfect their Mandalorian outfits. Meanwhile, tattoo artists show off their work, inviting others to get similar designs. Gamers play together, both competitively and co-operatively.
These communities have built themselves around an ongoing franchise. The new-found energy of the new films seemed to electrify the air at Star Wars Celebration Europe. Maybe it's always been there — at previous conventions in Colorado and Indiana and Tokyo — but the draw of seeing footage from an upcoming Star Wars film, one that people are looking forward to seeing, seems to have reinvigorated fans new and old.
"There's something about Star Wars itself at its core that people are attracted to that mythology, that story, those values and principles," Finnegan says.
On Friday afternoon when the The Rogue One panel has finished and fans have seen that new trailer with Darth Vader (still very hard to find online), there's a real enthusiasm among the 4,000 or so who saw it.
Here's how Comicbook describes it:
But the real thrill for those in attendance came at the very end of the trailer, when it went dark, and all you heard was the tell tale breath of everyone's favorite Sith Lord. The lighting came up slightly, showing what appeared to be a console of some sort, glowing red — and in the reflection of the console, the silhouette of Darth Vader appeared, and the crowd erupted in cheers and applause.
"It was kind of vague teases…followed by the greatest vague tease of all time," says Guy Meadows, 20.
Everyone who wasn't there only got to see this so-called "sizzle reel," which also includes no footage but isn't a trailer proper, with its behind-the scenes footage.
Whether they saw the sizzle reel or the top-secret trailer, Star Wars fans seemed pumped again:
"It's really brought the passion back," says Ian Johnson, 38. "We were a bit burnt by episodes one to three, so there was a natural apprehension there. And, for the most part, Disney pulled it off. It looks like it's another really exciting Star Wars adventure."