'The Force Awakens' Just Crossed $2 Billion, Is a Box Office Failure
'Avatar' is still on top. All hail the blue guys.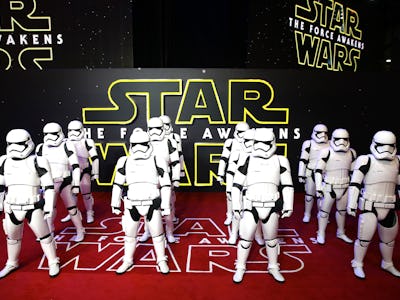 Getty Images
Star Wars: The Force Awakens is expected to cross $900 million at the domestic box office and is set to ring up $2 billion in grosses worldwide on Friday. This may sound like it did better than alright in the money-making department, raking in some ginormous box office bank everywhere. But in fact, Star Wars: The Force Awakens tanked … relatively speaking.
It tanked, that is, if your name is James Cameron. Star Wars and Cameron's box office champs Titanic and Avatar are now the only three movies ever made to make $2 billion. The Force Awakens may have also recently pushed past Cameron's movie at the domestic box office, currently topping Avatar by $140 million for the No. 1 spot. But despite many projections and predictions, Star Wars still has a ways to go to try and beat Avatar's $2.7 billion take on the worldwide charts.
"This is a historic moment for Star Wars, for Lucasfilm and for Disney, and all of us here are extremely gratified to be a part of this journey with fans around the world who have made Star Wars: The Force Awakens such an extraordinary success," Walt Disney Studios Chairman Alan Horn said, per Variety. "The film's achievements are truly astounding, and it's our great honor to relaunch this cinematic galaxy not only for all the devoted decades-long fans but for a new generation who will keep the Star Wars legacy alive for many years to come."
It could still potentially top Titanic's $2.1 billion worldwide take if it remains at the same box office pace. And who knows, Horn and his fellow Disney folks, who really know how to make money unlike anyone else on the planet, could do something like re-release The Force Awakens sometime later this year to give it the monetary push it needs to defeat Avatar.
So Star Wars: The Force Awakens is a total, complete, outrageous failure.
But according to Box Office Mojo, the failed franchise reboot will have to merely settle for the following records:
Non-Opening Tuesday Gross
Non-Opening Wednesday Gross
Theater Averages (Wide Releases) - All Time
Theater Averages - Wide Opening Weekends
Opening Weekends - December
Opening Weekends - Holiday
Rated PG-13, Opening Weekends
What a tragic, tragic failure.