Why Chinese Audiences Skipped 'The Force Awakens'  
Its box office totals were modest in China, where 'Star Wars' is only a curiosity, not a cult.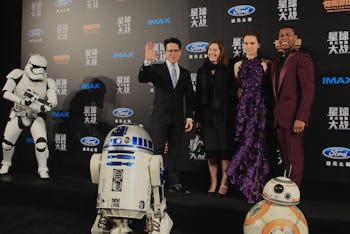 Hu Chengwei/Getty Images for Walt Disney Studios
The article below contains spoilers
After more than a month in theaters, you have to call Star Wars: The Force Awakens one of the greatest successes in the history of movies. It raced to become the highest-grossing domestic movie of all-time and third in line on the worldwide charts behind director James Cameron's Avatar and Titanic. Yet even this juggernaut has one major deficiency: China thought it was meh. The second-largest movie market on the planet, and one toward which movie studios are increasingly turning to make their multi-million-dollar blockbusters into billion-dollar mega-blockbusters, was cool on the latest Star Wars entry. What gives?
Increasingly, Chinese audiences have become integral to Hollywood's successes. "American blockbusters, or those that appeal to Chinese audiences, have in some ways helped expand the exhibition sector in China," Zhen Zhang, an associate professor and the Director of Graduate Studies at NYU's Tisch School of the Arts, tells Inverse. "The number of movie screens have multiplied at a rapid rate in the cities, and are now extending to provincial capitals and towns."
These audiences received the newest Star Wars installment warmly, at first. The film opened in China on January 9 (22 days after it opened in the States) to the top spot in China, with a respectable $53 million. The next weekend? It dropped 72 percent, making only a little over $14 million, finishing behind a movie called Boonie Bears 3, a relatively low-budget Chinese animated feature. The drop caused Chinese exhibitors to reduce screenings of The Force Awakens in favor of other choices.
The Force Awakens remains a relative success in China, having surpassed $100 million in ticket sales. But that steep drop off means the movie looks unlikely to gross more than $125 million in China — no flop, but a modest total, given the size of the market.
This isn't a good look for a movie whose total non-U.S. revenue has exceeded $1 billion thus far. It's also not good news because its Chinese total is well under the successes of other Hollywood favorites from 2015 that were embraced by Chinese audiences. The total haul by The Force Awakens will pale in comparison to the gargantuan $390 million total pulled in by Furious 7, the impressive $240 million from Age of Ultron, and the excellent $228 million take by Jurassic World. The $135-million-plus Tom Cruise's Mission: Impossible — Rogue Nation made may even outshine it, as well.
These numbers are impressive, but also telling as to why The Force Awakens hasn't caught on. It's a crowded market, for sure, made even more difficult by the government-mandated Hollywood blackout that limits non-Chinese movies from being shown for a certain period of time.
But Zhen, also the director of NYU's Asian Film and Media Initiative, says there's another simple reason why Star Wars isn't as successful in China.
"Chinese audiences are not as familiar with the series and franchise as a whole," she says. "There is much less knowledge of it or a cult following, but the curiosity is there."
It makes perfect sense. The Chinese market is blooming so quickly that it's easy to forget it's Hollywood's youngest sibling. The first Star Wars film to be released in China was The Phantom Menace in 1999, making both the rapid proliferation of Hollywood blockbusters in China in recent years impressive, but also the extreme newness of Star Wars as a phenomenon that much more apparent.
China's primary moviegoing audience is made up of 17-to-31 year-olds who didn't get the same embedded, multi-generational cultural significance as American audiences that came of age when Star Wars debuted in 1977. Current Chinese audiences are more familiar with the Marvel and Fast & Furious franchises, meaning Han Solo's tragic death and the whole fateful search for Luke leading to the climactic shot of The Force Awakens didn't mean much. China's reaction was basically like, "Huh, sucks for that dude, I guess."
On the bright side for Disney, as Zhen says, the curiosity is there, which accounts for its initial spike in popularity. And Disney is doing its best to stoke interest in China. The premiere of The Force Awakens just after Christmas was held in the Shanghai Grand Theater, and was attended by director J.J. Abrams and the stars of the movie. The upcoming standalone movie Rogue One, on the other hand, counts Chinese stars like Donnie Yen and Jiang Wen among the lead characters of its ensemble cast.
The latter attempt is something that Zhen says could work both ways. "A Chinese cast and setting could help localize the brand, but, if deployed only as token in a superficial way for the sake of ticket sales, they might be counterproductive," she says. But she remains optimistic: "My hope for Chinese cinema is there will be a spectrum of films ranging from blockbusters, to middle-range-budget popular genre films, art film, and alternative cinema — like what we have in New York."
Disney and Lucasfilm have been methodical in correcting Star Wars' problems in the Chinese market. Cultural differences between China and North America may have dragged down one of the biggest movies of all-time, but neither China nor Star Wars as a franchise will disappear any time soon. If Disney has any long game worth playing, it's this one.