China Loves 'Terminator Genisys', a Surprise International Hit
Overseas earnings probably saved the sequels America didn't really want.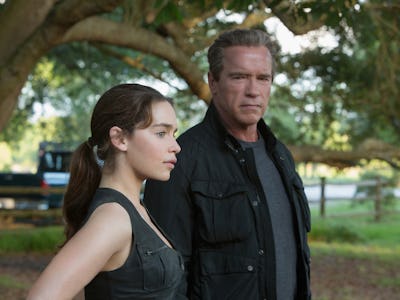 Paramount Pictures
Arnold Schwarzenegger and his most recognizable character promised they'd be back, but they came back with a big thud. Terminator Genisys only managed to pull in just a tad over $89 million at the domestic box office, the lowest 'Terminator' flick since the 1984 original. That amount didn't seem like the rousing, franchise-rebooting success the filmmakers wanted, almost certainly dampening the potential new 'Terminator' trilogy. But the film's debut in China may have turned that around.
The film claimed an admirable $27.4 million in China on opening day alone, making it the fourth-best opening for a Hollywood movie in China ever, after Furious 7, Avengers: Age Of Ultron and Transformers: Age Of Extinction. As of this weekend, the film's international total pushed its worldwide grosses past $353 million.
Chinese audiences might love them some T-800, or they might simply have been starved for a blockbuster. Terminator Genisys was the first big movie released since China's yearly government-imposed Hollywood blackout in June that limits what foreign movies are released there and when. The last Hollywood property to grace Chinese movie screens before Terminator was mega-hit Jurassic World.
The film's success overseas points to why Hollywood studios are mixing foreign stars into the casts and advertising in foreign markets. Overseas markets can be huge, even if Americans greet your movie with a collective "meh."
This pulls the new Terminator sequels from the brink of doom. The same thing happened with director Guillermo del Toro's fighting robots extravaganza, Pacific Rim, which earned triple overseas what it did domestically. Its sequel is now set for a 2017 release.
There's no word on any Terminator sequels just yet, mostly because it seemed all but dead before China saved it. Whatever the outcome, it's safe to say that we'll be hearing Arnold say "I'll be back" again sometime soon and mean it.