Will 'Jurassic World' Out-Earn James Cameron?
It's teeth against tires for all of the money.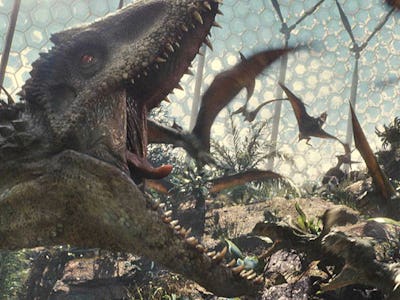 Getty Images
Look closely: The green hills of Isla Nublar are covered in cash. Jurassic World has now officially taken over Furious 7 to become the biggest worldwide grosser of the year. World has netted an estimated $1.513 billion, while Furious 7 has hit the skids at $1.512bn. For those keeping track, that's a million buck margin.
As easy as it would be to write three or four analogies about dinosaurs trampling the competition and hang it up for the day, there are a few box office records left to debate. The next milestone on the list for World is a no-brainer prediction: It will beat out The Avengers — easily — to become the third-highest grossing movie of all time. But, can it take down James Cameron's duo of Titanic and Avatar?
Titanic sits at $2.187 billion, which would mean another $600 million to get World to the number two spot. Here, there's a chance: Jurassic World has already piled up more receipts than Titanic in the U.S. in a fraction of the time. (Technically Titanic has about $50 million more due to the release of its 3D edition, but Jurassic World should beat that, all the same.) It needs to rake it in overseas to break up the Cameron reign. The film still hasn't opened in Japan, so Chris Pratt better find himself in a Suntory Whisky commercial stat.
It has next to zero chance of besting Avatar's $2.788 billion haul, meaning the entire world must continue to carry the shame of collectively catapulting those weird, blue aliens to their unassailable perch.
What does it all mean for the viewing public? More sequels, of course. Avatar 2 is in the works and you better believe the dinosaurs will ride again. In a sense, the question here isn't whether or not the individual movie can gross more, but whether or not it can put its producers in the position to gross more with the obligatory follow-ups. Our suggestions: Put the dinos and the aliens in a sci-fi jungle and film them working it out on their own.