Star Wars 'The Force Awakens' Reviews Are In
A spoiler-free rundown of what critics are saying.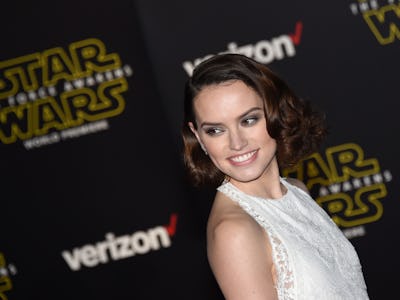 The Force Awakens opens tomorrow night worldwide, but critics saw the movie the last two nights in Los Angeles and New York. And….
They love it. Without going into too much more — I'm so afraid of writing spoilers that I'm beginning to wonder if using Daisy Ridley's photo up top is some kind of implicit spoiler, DAISY RIDLEY IS IN THE MOVIE FOLKS — many critics are echoing the sentiment of the Times Manohla Dargis, who writes "it seamlessly balances cozy favorites and new kinetic wows along with some of the niceties that went missing as the series grew into a phenomenon." Given that J.J. Abrams has been portrayed moreso as a steward than a fellow executing scenes and characters from scratch, this strikes me as the best scenario that any fan could have hoped for.
"The Force Awakens" is such a focal point that I guarantee there will be a wave of backlash, then a wave countering the backlash, then backlash 2.0 (I'm guessing something involving the droids portrayal, or Star Wars faulty economy, or something), and then a correction, and so forth, all within the first week. It's to be expected at this point. But seemingly this new Star Wars conjures the force just fine.
Money-wise, well, it's going to be alright.