Kathleen Kennedy and Gareth Edwards Respond to 'Rogue One' Reshoots Controversy
Things are going just great! Or so the directors claim in a new 'Entertainment Weekly' interview.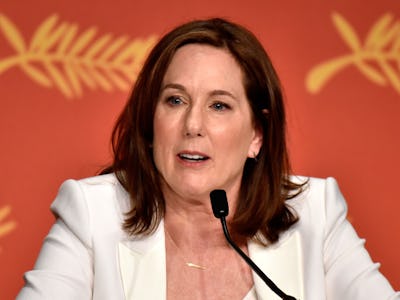 Getty Images / Clemens Bilan
News broke a few weeks ago that Rogue One, the first standalone Star Wars movie, might be in deep trouble. The film scheduled five weeks of reshoots, and rumors flew about 40 percent of the movie having to be reshot and other more experienced filmmakers besides director Gareth Edwards being summoned to help fix the supposed mess. The internet responded with utter panic, but in a new interview with Entertainment Weekly, Edwards and Lucasfilm head Kathleen Kennedy explain that it was all for naught.
When the alarm about the reshoots went off, we were quick to point out that big, gigantic movie productions usually have reshoot time built in to the production schedule. Most movies don't have as much riding on them as Star Wars movies, so it made sense to be extra careful, especially for the first non-episodic Star Wars movie.
Edwards and Kennedy said as much to EW: It was always part of the plan to do reshoots. "We always knew we were coming back somewhere to do stuff," Edwards explained. "We just didn't know what it would be until we started sculpting the film in the edit."
The sculpting metaphor is more than appropriate. Even the best sculptors rarely get things perfect on the first go, and it seems as though once Edwards and his team saw what they had assembled, he wanted to refine the shape of the film. Like the summer 2015 reshoots on The Force Awakens, Edwards simply wanted to add some adjustments here, some more focused action beats there, and it's all for the sake of creating the best movie the team can.
Per the interview, no major scenes will be completely reshot, and Kennedy explained that said reshoots wouldn't change the tone of the film despite reports saying Rogue One was took much of a dark war film.
"One of the things we're doing with these Star Wars stories is embracing the uniqueness of the different genres," Kennedy told EW, "and we're very deliberately leaning into the various styles of directors that we're approaching so that each of these movies will very intentionally have a very different tone and style from the saga films. Gareth has shown a stylistic preference that's much more handheld, visceral, inside-the-action kind of feel."
As such, Rogue One will continue to focus on being a war film, which is kind of ironic considering even the originals were technically war films.
It seems like they have a handle on what the film will be – even though they're still in uncharted territory. Rogue One is a 'Star Wars movie but it kind of isn't , because it's the first standalone story. Kennedy explained they're in a strange conundrum of just how much to make it like the Star Wars* we know and love while keeping it distinctly separate. Decisions to include or keep out iconic things like an opening credits crawl would set the precedent for future standalones.
"The crawl and some of those elements live so specifically within the 'saga' films that we are having a lot of discussion about what will define the [stand-alone] Star Wars Stories separate and apart from the saga films," said Kennedy. "So we're right in the middle of talking about that."
It's a fascinating interview. Kennedy and Edwards seem genuinely open to engaging in the problems and concerns fans have with the new Star Wars films. Edwards says it still taught him a particular lesson: "Making a film stops you believing anything you've ever read on the Internet."
Rogue One is set for a December 16, 2016 release