Disney Plans 'Rogue One' Reshoots, Hints the Production Might Be In Trouble 
Reshoots are normal, so every 'Star Wars' fan should stay calm.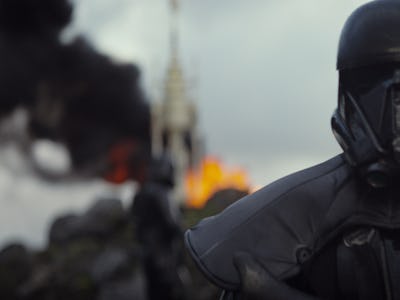 StarWars.com
It looks like Disney has a bad feeling about this: According to a Page Six report, Disney executives are unhappy with the first cut of director Gareth Edwards's Rogue One: A Star Wars Story and are scrambling to salvage the movie before it hits theaters in December. Unnamed sources from Page Six said the movie will undergo a few weeks of "expensive reshoots" this summer, but the rest of the confusing post suggests it's either the worst movie in history, or par for the course with such an anticipated blockbuster.
Per the Page Six report:
"The execs at Disney are not happy with the movie, and Rogue One will have to go back into four weeks of expensive reshoots in July."
And later:
"Gareth's work on the first Godzilla shows he can handle a big studio blockbuster. But Rogue One has fallen short of what J.J. Abrams did with Star Wars: Episode VII — The Force Awakens. So Disney has ordered reshoots."
Perhaps unsurprisingly there aren't any real specifics about what Disney was unhappy with, but if the absolutely kickass teaser trailer was any indication it's that Rogue One will definitely be a different beast than the space soap opera of the other episodic Star Wars movies. Maybe Disney execs were nervous about how different and dark the first cut of Rogue One actually is, and they got spooked because gritty and dark blockbusters like Batman v Superman: Dawn of Justice were critically panned.
But other quotes from the unnamed sources imply the situation isn't the crisis mode that will inevitably send Star Wars fans panicking. Per the Page Six sources:
"The filmmaking team and the studio always anticipated additional shooting and second unit work to make the film the absolute best it can be, and the actors were aware there would be additional shooting. Coming off The Force Awakens, there's an incredibly high bar for this movie and we have a responsibility to the franchise and to the fans to deliver the best possible movie we can."
So Disney is all gung-ho about making Rogue One great, and the reshoots were expected. Actor Donnie Yen even confirmed that the reshoots were all according to plan in a recent interview. And Edwards even has enough time in between the reshoots to be one of the spotlight guests at this years Star Wars Celebration.
This movie is uncharted territory for the franchise – and people would assume creators know how to do a Star Wars movie – but this is supposed to be such a departure, it makes sense that Disney would want to keep tweaking it. This just isn't the panicked situation Page Six makes it out to be. Plus, this isn't the only new Star Wars movie to undergo reshoots.
Abrams did extensive reshoots on The Force Awakens, so much so that nearly the entire part of Poe Dameron was rewritten after the director and actor Oscar Isaac decided the character should live.
Reshoots are always baked into the production of any blockbuster, so the Page Six report seems like a lot of noise. Still, they were the ones who broke the official Alden Ehrenreich Han Solo casting news. There's a lot riding on Rogue One, so we'll see how it all pans out. But for now, have someone do a Jedi mind trick on you to calm down.
Rogue One: A Star Wars Story hits theaters on December 16.