'Rogue One' Poster Shows Stormtroopers in the Maldives
The first day of 'Star Wars' Celebration offered these new tropical images.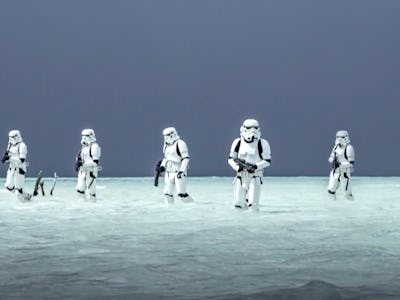 The biggest news out of the first day of Star Wars Celebration Europe, the highly anticipated three-day Star Wars convention in London, was a new trailer for Rogue One, but before we saw that teaser for the movie that comes out December 16, we got a look at its tropical poster.
We also saw a panoramic shot of stormtroopers wading through knee-deep tropical water.
"It does look incredible, though, those storm troopers wading through the most beautiful water," said actress Gwendoline Christie, who plays Captain Phasma in Star Wars (and Brienne of Tarth in Game of Thrones), the panel's emcee. "I think that's what I found so arresting. It's a new image for us."
"My favorite one — because it meant we got to go to the Maldives — is a planet called Scarif," explained director Gareth Edwards of the country comprised of a group of islands in the Indian Ocean. "We were going for realism throughout the film and we were trying to go to real locations. We had to go to paradise to film it and it was a nightmare."
Edwards explained that members of the Maldives National Defence Force played stormtroopers in the shot below and were like "what?" when the crew told them they were going to play the iconic soldiers. They added that they felt fairly stupid dressed like that in the water.
"So they are going to have a surprise when these billboards how up in the Maldives for them," Edwards said.
And then it was time for the poster reveal:
The panel also included the debuts of these visuals:
Earlier in the day, Mark Hamill opened up the convention with this free-wheeling, wide-ranging discussion.
"This is my favorite thing to do — to come and talk," he told the fans as he came out onstage. "I think of it as a conversation with 4,000 of my closest friends."