Jessica Jones Returns to Star in a New Comic This Fall
It's been almost 10 years since Jessica Jones led a solo comic of her own.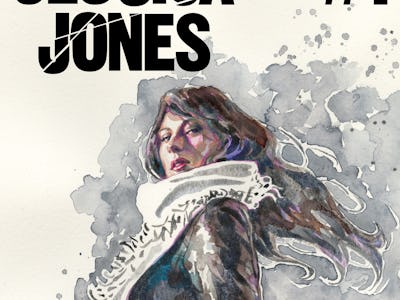 Marvel Comics
Netflix's Jessica Jones was a fun change of pace from the streaming service's other Marvel show, Daredevil. A kicked-up, neo-noir, Jessica Jones starred Krysten Ritter's eponymous private investigator as she hunted down David Tennant's creepy, magnetic, villain, Kilgrave. Now, thanks in little part by the success of the Netflix series, the original creators of Alias (Jessica Jones' debut comic) are returning for Jessica Jones' first solo comic in nearly 10 years.
Speaking to IGN, Jessica Jones writer and co-creator Brian Michael Bendis confirmed that the new solo comic this fall will "bring the band back together," meaning he will be joined by co-creator and artist Michael Gaydos, and cover artist David Mack. While her first original series came to an end in 2004, Bendis noted that all the recent shifts in the Marvel universe as a result of the many seismic, universe-altering storylines of Secret Wars, means that Jessica Jones is the perfect heroine to solve all the outlying mysteries caused by recent events.
The reason it took nearly a year after the premiere of the Netflix show to launch the new comic is the fact that Bendis was adamant the original Alias team was involved. Jones has made numerous appearances across comics since her debut, including a second series titled, The Pulse, which ended in 2006. However, most recently she's been relegated to the sidelines. Fall's new Jessica Jones comic will see the private eye back in the hero seat after a long break, and according to Bendis, everything will have changed for her.
In the IGN interview, Bendis says, "We're going to open up a book where Jessica's world has blown up in her face. She's at a place you'll least expect her. You're going to find all of her relationships have altered. And we're slowly going to find out why."
What exactly these changes are will be a mystery until the first issue drops in the fall (presumably after the current event series, Civil War II). Bendis maintains that the comic will keep the dark atmosphere put forth by the original Alias comic, and will be different from the show. However, he is excited that the show, which helped make Jessica Jones into a leading figure in the MCU, will allow him to explore a character with a newfound popularity and reach.