What to Stream on VOD: A Japanese Punk Documentary and a Country Music Biopic 
Picking out the best of video on demand each week so you don't have to.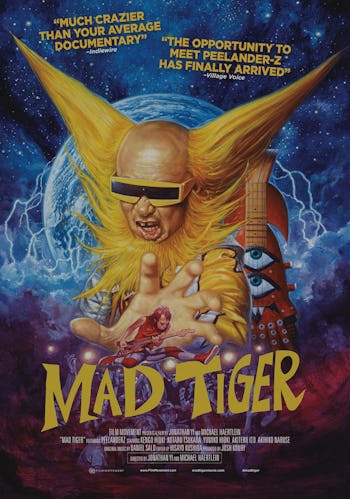 Facebook / Madtigermovie
If you can't make it to the movie theaters this week — but still want to see something new and different — the internet has you covered. Too covered, actually. Countless movies get weekly digital releases, from the biggest studio blockbusters to the smallest indie movies, so it's tough trying to sort through the options to decide what's actually worth watching.
But don't fret. Even though the summer blockbuster season has been fairly lackluster so far, Inverse is here to offer some of the best digital movie choices to cure the season's cinematic disorder. Here's what's worth checking out this week.
As far as biopics go, it's never good when the family of the real life person you're playing actively speaks out against your ability to play their relative on-screen. Which is exactly what the family of country music crooner Hank Williams did when this Tom Hiddleston drama was announced in 2015. Williams's grandson, Hank Williams III, wrote directly to Hiddleston on Facebook, unkindly telling the British actor that he "got no moan or soul" in his voice, which Williams suggested meant that the actor couldn't mimic the music legend's warble. But hey, the country music queen herself, Taylor Swift, must have enjoyed it enough.
Bruce Willis hasn't been in a good movie since Rian Johnson's Looper hit theaters in 2012, and since then wasted his time and talents on a recent string of yawn-worthy appearances including his woeful return to the Die Hard franchise that made him a star with 2013's A Good Day to Die Hard. But Marauders, about a conspiracy involving an elite team of bank robbers, seems to fit purely in the B-movie comfort zone that lets someone like Willis who usually phones in their performances at least make it seem like they're having fun. The movie hit a handful of theaters in early July, but it was always a targeted VOD release. Plus, with the always solid Christopher Meloni putting on his Law & Order: SVU hat as a hardass FBI agent investigating the suspicious robberies, you can't go wrong.
The span between remakes is getting shorter and shorter these days, as this 2016 horror redo — about a bunch of college kids on a camping trip who are inconveniently exposed to a flesh-eating virus — came out only 14 years after director Eli Roth's original. Roth returned as a producer and is credited as being a co-writer on the screenplay, but that's just because new director Travis Zariwny simply used Roth's old one and cut 32 pages out of it. Maybe its unnecessary existence as a near carbon copy of the original, which isn't considered a classic by any means, is why it currently has a zero percent Rotten Tomatoes score. At least the original one featured Rider Strong, that one dude from Boy Meets World.
The production company The Asylum is notorious for their "mockbusters," cheapo knockoffs of multi-million dollar franchise films that look just enough like the original that it'll trick your grandmother into buying the DVD for you while she's shopping at Walmart. Some faux classics include Independent's Day, their rip-off of Independence Day; Atlantic Rim, their rip-off of Pacific Rim; or Transmorphers, their rip-off of Transformers.
But now comes Sinister Squad, their attempt to cash in on Suicide Squad, the DC movie that people might actually enjoy this year. The Asylum movies aren't to be taken seriously, and are best enjoyed as drunk as possible surrounded by equally drunk friends, but it'll be interesting to see if this movie actually stacks up to the real thing. This movie's version of the Joker, curiously named Rumpelstiltskin, will probably be better than Jared Leto's clown prince of crime anyway.
Post-apocalyptic thrillers are a dime a dozen, and every time you turn around there's another sci-fi movie about the wasteland or the scorch or roving bands of mercenaries out to cause trouble for innocent people trying to rebuild society. The Sector seems to be cheaper than that. This straight-to-VOD movie is basically like a less clever mix of Escape from New York and Mad Max, but it still seems endearing in some way. The movie is probably hot garbage, but they get an A for effort because it's got perennial badass Lance Henriksen as a mysterious outlaw named "The Finisher". That makes The Sector pure schlocky bliss.
Japanese punk band Peelander-Z is unlike anything you've ever seen. Their shows are like some bizarre fusion between Gwar, the WWE, Power Rangers, and Yo Gabba Gabba! — and even that doesn't do it justice. Michael Haertlein and Jonathan Yi's documentary Mad Tiger is meant to capture that bonkers experience, but also the very real emotions behind one of the band's founding members deciding to leave the group after a decade of on-stage madness. When Inverse spoke to Haertlein and Yi before the film's release in May, Yi said their movie was supposed to be "a human story relatable beyond what's it like to be in a punk band," which is true. Except this very relatable story also happened to be about friends in a band who say they're from another planet.