Rian Johnson, Director: What We Need to Know Before 'Star Wars: Episode VIII'
How the director of a $500,000 indie noir is now the new steward of the 'Star Wars' saga.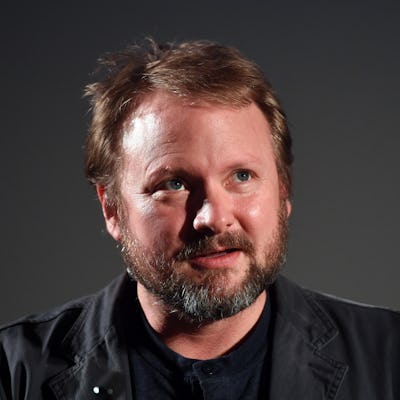 Getty Images
How early is too early to start talking about Star Wars: Episode VIII? Well, considering the movie starts principal photography in March of 2016 and will be released in May 2017, we might as well get to speculating. The countless audiences who have seen The Force Awakens already know that it ends on a fairly killer cliffhanger — not as drastic as, say, The Empire Strikes Back, but one that definitely hooks you into wanting to see what happens next in the epic space story of Skywalkers and fathers and sons and, possibly maybe now, daughters. But out of the absolute dearth of details about Episode VIII known, the most intriguing is the movie's writer and director, Rian Johnson. While not as big a name or as experienced as J.J. Abrams, Johnson has been handed the keys to a very, very big and multi-faceted spaceship. And he may just turn out to be the perfect pilot for the job.
So, who exactly is Rian Johnson? He didn't create an iconic TV series like Abrams but he certainly has participated in one, and unlike Abrams he hasn't signed up to resuscitate gigantic franchises like Mission: Impossible or Star Trek prior to his Star Wars gig. What he has done is build a successful and ridiculously solid film career from the ground up, and then transitioned that expertise and film geek clout into taking the director's chair in the biggest franchise ever.
Johnson began his feature film career in 2006 with the micro-budget noir Brick, which almost single handedly reintroduced the world to Joseph Gordon-Levitt and is like a throwback to all your favorite Dashiell Hammett novels — hard-boiled dialogue and all — only it's set in high school. Think of it as The Maltese Falcon meets The O.C., only good.
It established Johnson as a builder of unique character-based worlds, and could do it for only $500,000. It helped him transition into a bigger and more complex caper with 2009's The Brothers Bloom. The story, about two conmen brothers trying to swindle a beautiful heiress but possibly falling for her, is like a less saccharin Wes Anderson film with a little more of a 1970s Peter Bogdanovich vibe to complement the quirk.
A very modest winner when it was released, The Brothers Bloom at least led the way for Johnson to breakout next with his most mainstream but intricate hit, the Gordon-Levitt and Bruce Willis time-travel thriller Looper. It's his main connection to a larger sci-fi framework like Star Wars, except this one is actually his own creation. Looper saw Gordon-Levitt and Willis play the same man existing at the same time at different ages; it proved Johnson could wrangle a big budget, a potentially confusing script, and a big personality like Willis into a straight-up great Gilliam-esque possible classic.
Since then he climbed the ladder still, dabbling in short films and TV, elevating the latter into something resembling his relative big-screen triumphs. He first directed the slowest episode of the groundbreaking series Breaking Bad with the third season's "Fly," and later directed the fifth season episode "Fifty-One," which earned him a Director's Guild of America Award for his work. His chops on the third-to-last episode of Breaking Bad called "Ozymandias" gave him the biggest boost. If you're a fan of the show, you know exactly why this episode is both notable and absolutely heartbreaking thanks in part to Johnson's impeccable directing. It was later called one of the best episodes of TV ever.
And now there's Star Wars, which Johnson will write and direct and has been developing for a few years in near tandem with The Force Awakens. It seems like a big leap, but the key throughout Johnson's story has been his connectivity to strong filmmaking and strong fan reactions. He's a recognizable face in all the right geek circles.
When he's not introducing movies at the BFI or going to the infamous Alamo Drafthouse Butt-Numb-A-Thon in Austin, Texas, he's got an active and often hilarious Twitter account, and makes occasional appearances on popular podcasts.
He most recently chatted with director Terry Gilliam on The Talkhouse podcast about his movie The Zero Theorem, in which Gilliam was delightfully ignorant of Johnson's next gig. And we wonder if Johnson showed J.J. Abrams his take on the director's movie Super 8 from his appearance on an episode of the SlashFilmCast.
Besides being a fan like Abrams, Johnson's participation in the Star Wars universe will be perfect for two reasons: His ability to coax actors into great performances regardless of the source material and his ability to write and nurture deep, believable, and meaningful characters.
Besides directing and writing Episode VIII, Johnson is also writing Episode IX, so in effect he is the main steward of the new trilogy from here on out.
Daisy Ridley has gone on record saying the script for Episode VIII is "very good," while Benicio del Toro, who will be playing the film's new villain, said Johnson will bring "a cool, sci-fi realism" to Star Wars and will "infuse the franchise with new steroids."
The stars are big fans of Rian Johnson. If you're not yet, just wait.