Why Gucci Mane's Release From Prison Matters for Hip-Hop
One of the most influential rappers of all time is back and ready to work. How will he adjust to a changed hip-hop landscape?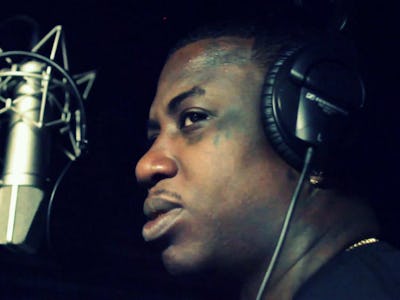 If you are not a hip-hop fan, or didn't grow up listening to it in the South, the hype and adulation surrounding Atlanta rapper Gucci Mane's release from prison yesterday might be somewhat lost on you. Getting out of prison is a reason for celebration, but Gucci Mane is also one of the most influential hip-hop artists of all time — certainly, of today's most popular rap music.
Since the mid-'00s, Gucci has mentored and given opportunities to numerous trailblazing up-and-coming Southern rappers, from Waka Flocka Flame to Future to Young Thug to the waning but ever-influential Migos. His immutable style, developed across several major-label albums and countless mixtapes, is the baseline for nearly all of these rappers' styles. Meanwhile, the producers he's helped break — from Zaytoven to Mike Will Made It to Metro Boomin — remain some of the most in-demand in the industry.
Gucci Mane grew from a sensation in Atlanta — his breakthrough came with the Jeezy-featuring "So Icy" in 2005 — to a crossover hit in the late '00s, to a rap-blogosphere icon in the early '10s. Later, he became something of a meme, or at least a fetishized object of hipster affection, after his turn in Harmony Korine's 2012 film Spring Breakers.
After Gucci went to jail on weapons charges in 2013, his engineer and confidant Sean Paine has helped the rapper assemble a dozen-plus mixtapes cobbled together from huge vaults of material. Some of the verses and hooks are unreleased, but almost all of them are padded out by over-the-phone murmurings, and verses recycled from previous songs, slapped on top of new beats with new features. As recently as April, Paine/Gucci released a compilation — the 36-track Meal Ticket. Other unofficial and reupped years-old mixtapes make his Spotify page one of the lengthiest and most unparsable collections you'll find on a streaming service.
Yet Paine's work has helped keep Gucci's name in the headlines, and his healthy download counts on mixtape sites demonstrate his die-hard fanbase.
So what's possible now for Gucci now that he can actually record of-the-moment music again? And why should the world care that he's back in the game, especially a younger generation that may not have been raised on his music? Can Gucci Mane remain relevant?
Before Gucci went in again — he has been in and out of jail, for shorter stints, throughout his career — he found himself at a low point in terms of public opinion. There were, in particular, a couple of ill-advised and defamatory Twitter rants, and afterwards, a public admission of lean addiction. All of this overshadowed not only the music he was putting out at the time — admittedly, not his best — but his legacy in general.
Now, with a new lease on life, Gucci has the potential to reassert the inimitable voice that has helped make him one of the most important voices in the history of Southern hip-hop.
If yesterday's "First Day Out" freestyle is any indication, Gucci has a lot to get off his chest. The song not only reflects on his experience counting the hours — or rather, losing track of them — in jail; he also expresses regret for the missteps he made before going in, and the consequences: "My own momma turned her back on me, and that's my momma." The emphasis there is a familiar old Gucci cadence — conversational, disarming — but the sentiment and the energy feels very new.
The song suggests his post-prison work could go a direction similar to Boosie Badazz's recent work. Boosie — once Lil Boosie, the king of hip-hop in Baton Rouge and a legitimate crossover star — served a near-five-year jail sentence at Angola until 2014. Since then, he's released seven projects, including one major-label album, which feature a heavier tone, musically and lyrically, than even the most confessional material he put out pre-prison. Deeper, existential themes and a heavier focus on narrative permeate this overlooked material. One wonders whether Gucci's music in the coming months might experience a similar shift in tone.
But Gucci has always been a consummate businessman. Especially from 2011 on, he's made a point of hosting bubbling street-rap talent on his projects, and subtly stealing tricks from those younger artists. His later releases — take the WWIII series for a good example — improved drastically from their inclusion. It seems unlikely that Gucci will detach himself from that infrastructure to pursue his own more solitary musical agenda. Rap has changed a fair amount since he went into prison. Future and Young Thug's wispy melodies and dull, clipped triplets now fully dominate the sound of Atlanta music and the panoply of music influenced by it. In this environment, it will be interesting to see how Gucci — ever-eager to be on the cusp of what is happening next — adjusts.