5 Great Tracks from 'EVOL,' Future's New Apple Music-Released Album
Bentleys, Xan, Russell Wilson disses, and more on the Atlanta rapper and Cam Newton proponent's new album.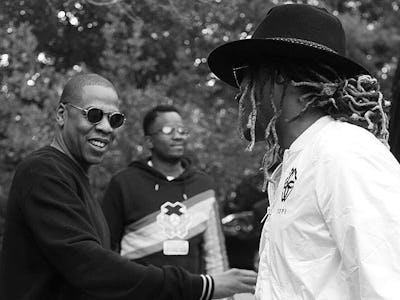 Future Facebook
The Atlanta superstar trap rapper's second project of the new year is a darker offering than his first, Purple Reign. And it's generally stronger. It's definitively an album, not a mixtape — currently available exclusively from Apple Music and iTunes, and released by Epic Records.
We're getting lots of music from Future, and more and more quickly. It makes it feel more crucial to archive our particular favorite tracks on any given tape — to assemble playlists of project highlights and loose tracks. All of Future's releases have unremarkable moments: Take tracks like "Program," which aren't special, though listeners will doubtless find the line "my BFF the cash" running through their heads in the weeks to come.
Here's a list of the five standout tracks on EVOL — those which push the Future sound forward most effectively.
1. "Xanny Family"
Metro Boomin and Southside's beat boasts a warbling, dissonant synth effect that evokes the symptoms of the drug on which the song focuses. It's a consummate example of sinister and seedy late-night-hedonism Future music. This is Future at his most picturesque and cinematic — the kind of thing rappers should be talking about when they refer to their newest banger or tape as a "movie."
2. "Lil Haiti Baby"
The track juxtaposes a sloppy, wistfully melodic vocal with a gargantuan beat underlined by stuttering, anthemic horns. Future and relative no-name producers TeeLow Da Producer & Moe Goonie cull back to the roots of trap music — the late-'00s work of fellow ATLers Gucci Mane and Young Jeezy — as well as Future's Pluto-era work. It provides a welcome break from the darker timbres of the rest of the album. Highlight: the hoarse, bellowed break "I just want to go back to the Bentley store / I just wanna go back to the Lamb' store/ I just wanna buy another Rover though." Understandable!
3. "Photo Copied"
"I'm on savage time / I'm on ratchet time" is the war cry that anchors "Photo Copied," the centerpiece of EVOL. As with much of the album, there's a skittering, "Jumpman"-like cadence to Metro and Southside's beat. Future's delivery is clipped and particularly energetic, full of the sharp, belligerent one-liners that serve as signposts in Future's music as we get more and more of it, in an increasingly consistent and even predictable style. This one has already got commenters and Genius annotators speculating; is "she so out of pocket" a knock on Russell Wilson, his ex-girlfriend and mother of his son Ciara's new flame?
4. "Low Life" (feat. The Weeknd)
The wordy Weeknd verse recalls the singer's early work and complements the twinkling noir trap beats. Future enters aping the cadence of Tesfaye's own "Often". The combination of the two talents — wisely, in their subtlest modes — makes more than enough sense.
5. "In Her Mouth"
Some yawning, twinkling synths from Southside dominate this track. Future's flow is cleverly speech-like, and always morphing — like one side of a phone call with our behatted anti-hero. This is some of the best rapping on the tape, and some of the most outlandish; just note what he says he's going to do to "the DA lady."