New Future and Young Thug Albums Mean Friday Is Atlanta Rap D-Day
Future's Apple Music-affiliated 'EVOL' and Thugger's 'I'm Up' prompted a beef, but will they be good?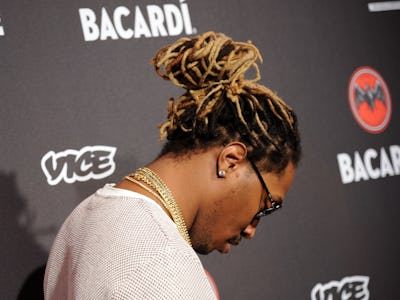 Ilya S. Savenok/Getty Images
Future's new project EVOL and Young Thug's I'm Up (formerly Slime Season 3) will impact this Friday. Future's release will come after a premiere of the project on DJ Khaled's new Apple Music Beats 1 radio show. Future's drop — which comes in partnership with Apple Music —is the bigger deal, being that it's an official studio album through Epic Records and not a mixtape. Increasingly, however, those distinctions are moot; remember, you can now go Platinum from streaming. One wonders how the modest 11-track project will size up against the chart-topping numbers done by his third studio full-length, DS2, last year.
The stakes for both artists, however, feel a bit lower than usual, given the amount of music they have been releasing. Future fans are still digesting last month's tape, Purple Reign, and Young Thug's two previous, lengthy Slime Season installments and catalog of loose tracks are dense enough that the prospect of another project is something few are begging for at the moment.
Thug has caught flak from Future and his own partner in crime Metro Boomin in the past for releasing too much music, though the dispute has since been patched up.
Interestingly, though, Thug chose — once again — to come at Future with some oblique jibes on Twitter yesterday, including poking fun at the latter's "Everything I do epic" ad lib:
Future fired back at Thug's initial parlay aptly:
It remains to be seen whether these artists — Atlanta's most beloved, and rap's most innovative figureheads of the moment — can stay on top, and keep quality with increasing quantity. This weekend will be another proving ground, and fans of street rap will have a lot to marinate on. Also, it may be time to formally affiliate yourself: Team Thug or Team Future?