Young Thug's 'Slime Season' is Full of Inspired Moments, But Ultimately Uneven
The Atlanta rapper's new tape feels a bit aimless and heavy on leftovers, but it's still worth sifting through.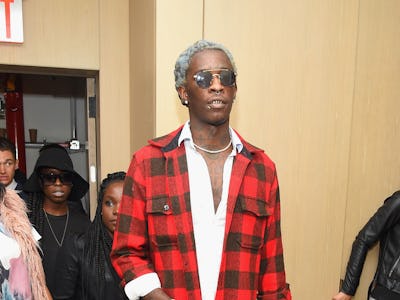 Getty Images
While the world was busy getting suited up in their straightjackets to watch the GOP debate, Atlanta rapper Young Thug dopped a new mixtape, Slime Season. The free release is an hour-plus collection featuring work from genre-defining ATL producers Sonny Digital and Metro Boomin, to Barter 6/Rich Gang favorites London on tha Track and Wheezy, to up-and-comers like Ricky Racks, who produced Thug's hit of the moment, "Best Friend."
The credits list is relevant because the tape was originally advertised as an exclusive collaboration between London and Thug. Instead, Thug's label 300 Entertainment seems to have opted to make Slime Season a compendium of sorts (which London doesn't seem totally happy about). The result of this is that it's probably the least consistent Thug solo release since his first mixtape I Came From Nothing, back when he was working to separate his identity as an artist from that of his then-idol Lil Wayne (who appears here, by way of a troll, on previously-released, pre-feud track "Take Kare").
Thug's spark plug style has evolved so quickly over the past four years — even just in the last year and a half. During that time, the rapper has come into his own as an artist capable of producing full-length releases with broad appeal (Rich Gang's Tha Tour Part 1 and April's Barter 6) and not just a mixtape-famous oddball with a couple of fluke singles (see "Danny Glover" and "Stoner"). These stylistic shifts, as well as the make of the beats, makes it possible to speculate fairly intelligently about when certain songs were recorded. Slime Season begins with a few clearly older tracks — possibly dating back to early 2014 or before — featuring more of an industrial-grade, stock "trap" sound. Compared to the deathly spare, moodier sound of the production on Barter 6 and the best Rich Gang tracks, the approach feels uninspired. More anonymous beats, like Sonny Digital's on "Quarterback," tend to result in more standard maneuvers from Thug. "Rarri" also sounds a bit phoned-in: Its melody feels compiled from previous better Thugger songs, and the stop-and-start flow of the chorus a tired gambit. Songs like this have the definitive quality of "outtakes."
The best work comes in the middle. "Stunna" and "Best Friend" have been the most touted tracks off the tape, and the London-produced "Power" is a highlight from the massive leak of unreleased Thug and Rich Homie Quan tracks that occurred earlier this year. The hooks lack the alluring, spacey melodicism of Barter 6, but Thug's verses are as wayward and goofy as we prefer them, moving from sustained ululations to clipped, jabbering syncopations to relaxed post-Gucci slow-flows. We want him to dart and flit about, and the leaner beats on the album are generally the most conducive to this approach. London's spidery piano figure and typically minimal drum kit on "No Way," and Allen Ritter's spartan, eerie beat for "Mine," inspire some of the best rapping and hooks on the tape.
Despite the fact that its hook that starts to grate with repeated listens, "Freaky" has possibly the best constructed verses and some of the tape's great lines: "I hop out the 'Rari, I'm leaving it started/ She got just a Harley and a skull just like Hardy/ You play with her garden, she smoke you like Marley". The ambient Wheezy-produced "Wood Would," however, boasts "My fuckin' weed smell like a turd/ I just made ten mill off of merch" — the great, double-take-inducing moment of the tape.
Any Young Thug project is worth listening to. He's the most innovative rapper working, and one of the genre's most influential stylists (next to Future, his more widely beloved elder). Slime Season is not a place to start for Thug newcomers, however; it does not have the streamlined incisiveness that lends Barter 6 its power. There is plenty of padding ("Take Kare," "Overdosin", "Again") and a couple of interesting but not earth-shattering anomalies (the post-DJ Mustard strut of "Udiggwhatimsayin" is a unusually bright, Rich Homie Quan-like moment). But Thugger's padding is better than most rappers' first-line material. Slime Season is clearly not meant to be a major statement. It's more of a stop-gap measure: 300 packaging loosies as attractively as possible while we wait for Thug's delayed album proper, Hy!£UN35. In other words, it's a rap mixtape in the traditional sense, and it's only as solid as it needs to be.