Young Thug vs. Metro Boomin and Future: The Best People in Rap are Fighting
Never subtweet. Pray for Atlanta rap.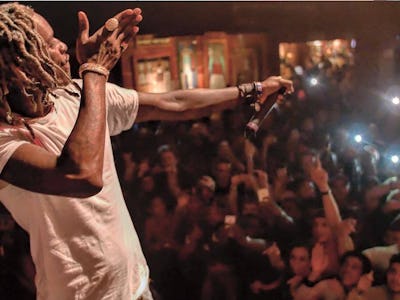 Facebook
It's a crying shame — it's worse for Atlanta than when Jeezy and Gucci Mane started biting each other's heads off over "So Icy" or when Gucci and Waka Flocka broke up. I definitely care more about this than Meek Mill and Drake. The most important and relevant voices in Atlanta rap have been at each other's throats over the past couple of days.
Young Thug — who we generally stand for here at Inverse — has released a borderline-overwhelming amount of music this year, including his March album Barter 6 and his two recent Slime Season tapes.
Thug took umbrage when his longtime associate and producer, Metro Boomin, made this ambiguous comment on Twitter, which came too soon after the drop of Slime Season 2 for Thug's liking:
Metro is on these tapes. But Thug caught feelings pretty quickly, and Future was dragged into the mess.
Then he ventured to compare Future to Tito Jackson.
So Metro is just Future's boy now?
Thug continued with some possible shading of Metro's new high-profile drop, a Future song he produced for the soundtrack of Rocky offshoot film Creed:
But of course, nothing against Future Hendrix, Thugger claimed. Not a bridge he wants to burn, I assume (and hope).
Metro denied that Thug was his target:
But things continue to be ugly:
To me this is all just evidence of what a noxious influence on society subtweets are. They are going to ruin rap music. If you are a subtweeter, you are part of the problem. Stop now, before the Coen Brothers stop working together and Justin Bieber retires to a small Canadian town to be a carpenter.