Halloween with Young Thug, Boosie Badazz, and Jeremih
Hits and misses for rap music's Halloween weekend. Plus: hope for the future from California.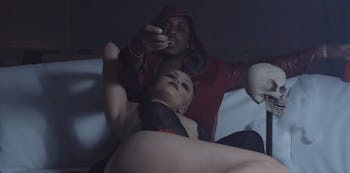 This is a column examining the latest developments in hip-hop — from albums to mixtapes to videos to totally meaningless hype — and speculating a bit about what's next.
Plenty of rap music made to be forgotten materialized over this haunted weekend. This included a new Halloween Havoc tape from G-Unit's Lloyd Banks, something new from… Vado (the fifth in his Slime Flu series!), and a D12 mixtape with a pumpkin on it. Check this pumpkin.
An uneven project popped up from sporadically interesting Philly marble mouth Lil Uzi Vert, but the rapper's most high-profile turn of the weekend was actually handling intro duties on the stylistically adventurous Atlanta rapper Young Thug's new Slime Season 2 mixtape.
"I got Halloween trick or treats up my sleeve," Thug shriek-croons on "She Notice," and he certainly does. Slime Season 2 is unquestionably the best rap release of last weekend, and probably of 2015's fourth quarter.
SLIME STUDIES: 201
The two hour-plus Slime Season tapes are nothing if not dense. Mostly, they are collections largely pieced together from a backlog of a hundred-plus songs Thug has been accumulating since roughly 2013. Many of these were leaked this past May to DJ haven and leak aggregator blog ATrilli. Together, Slime Season 1 and 2 serve like a remixed and well-curated version of the 50-plus-track, Young-Thug-only segment of the leak — other tracks came from Rich Homie Quan and Skooly — with newer material peppered throughout.
One wonders what it would have been like if the best of these songs had come out the way they were supposed to: on projects like the canned Metro Thuggin collab between Thug and his regular producer Metro Boomin', or Slime Season in its original form — with all beats from his all-star street rap architect London on da Track. The leak certainly affected the form in which these came to us, as well as significant interference from Thug's label: Lyor Cohen's street-rap-focused 300 Records, with whom Thug seems to be periodically at odds. April's excellent Thug album Barter 6, in its relative subtlety and brevity, had a blinders-on sharpness of purpose. It confused some people by not packing a whole lot of obvious singles, but has a consistency of sonic vision that the Slime Season entries lack. These songs feel wrested from a huge variety of creative zones and time periods; perhaps, from their most meaningful context.
Slime Season 2 is definitely the stronger of the two projects, boasting more daring moments — evidence of Thug's forward motion stylistically. The roster of producers is like a veritable batting order of all-stars, from promising rookies like Wheezy, Ricky Racks, Goose, and newcomer Treasure Fingers to old reliables like Metro Boomin'. There's more of a curatorial stamp than last month's Slime Season — namely, from longtime Thugger executive producer and engineer Alex Tumay. Producers — especially Wheezy, the tape's star — keep the beats muted, gutted, smooth, and harmonically irresolute. They provide Thug with an appropriately uncluttered canvas; the heavier-duty, less conducive beats that kicked off the first Slime Season are nowhere to be found.
Some of the best moments, also, sound half-finished. One of these is the yelp-anchored "Phoenix," which varies a chorus that is essentially a yelp with Thug's fastest and most pronounced rapping of the tape and some typical show-stopping metaphors: "Mush it not beat it (?)/Hakuna Matata, I need it/I'm a Mufasa genius/Baby, come fuck for no reason." Then there are tracks like the hazy electric guitar-backed "Hey, I," the upbeat, Cali-tinged "I Tell You What" and the lithe, better-than-Migos trap of "Pull Up on a Kid" which feel like they could have been proper growers of singles.
Detritus crops up towards the end of the tape, with a few tracks which sound like Thug mixing paint for Barter 6 and Rich Gang tracks. "Beast" — which sounds definitely improvised, though brushed up from the leaked version — features flows and lines which would form the architecture for Barter's "Constantly Hating," and the Birdman-featuring "No No No" is a sister track to Rich Gang highlight "Flava". It is a true shame, though, that "My racks are lettuce, my kush is onions" didn't make it onto the Rich Gang album.
Hopefully, at this point, we are done catching up with Thug's backlog. These tapes are peppered with relationships which seem to be increasingly less important to him: Rich Homie Quan and Birdman, specifically. One would like to feel like we are getting a more unadulterated taste of the Thug-of-the-moment. Additionally, more focused projects from Thug will afford him real opportunities to be a bigger star, if he's interested in going there on those terms. Another disciplined retail project, a couple more singles, and a few more high-profile features would give him a fighting chance at a crossover hit album on the level of his ATL peer Future's chart-topping Dirty Sprite 2.
It is very unclear if Thug's elusive new album proper, Hy!£UN35 (or HiTunes) — which may be a one-producer venture with London — will deliver these things. Does Thug have a "March Madness" in him? There's no guarantee the delayed album will help him catapult to becoming something more than a polarizing indication toward rap's uncertain future, but it would be a mistake to underestimate an artist this talented.
LETTERS FROM BOOSIE
On the complete other end of the Third Coast street rap spectrum, some serviceable and periodically heart-wrenching rap music cropped up this weekend on mixtape sites and rap blogs' back pages. This came in the form of a new tape from Baton Rouge legend Boosie Badazz (formerly Lil Boosie). Thrilla, Vol. 1's chief weakness — like a hefty chunk of Boosie's output since his release from prison in 2014 — is that there are too few attention-grabbing musical scenarios for his untempered street and jail life reflections. The mixtape Boosie released a few months after his release, Life After Death Row, was a tour de force, feeling like a best-of collection of musical ideas he'd concocted and tweaked obsessively while inside. Despite some strong one-offs, the studio album that followed earlier this year — Touchdown to Cause Hell — did not pack the same punch, feeling a bit too indebted to the scattered, expensive whims of the label and outside producers.
Once — especially during his unbeatable, pre-prison mixtape run of 2008-10 — market over-saturation worked like a charm for Boosie. Releases like Da Beginning and Superbad: The Return of Mr. Wipe-Me-Down gave him an opportunity to showcase elements of his style — and more involved narratives — that weren't ending up on his studio albums. Nowadays I wish he'd stop to work harder song to song. Though he delivers at least a handful of great tracks on every project, Boosie's recent [mixtapes] have been a bit ponderous both sonically and lyrically, characterized by a solemn earnestness that works both for and against him, and weighed down by disposable features.
Boosie's seasonal one-off, "Halloween," showcases both the rapper's strengths and foibles. It's a chilling concept — a portrait of meth dealing and addiction. At play are the remarkable things Boosie can do with his voice tonally these days. There's the usually fire-and-brimstone tenor, some deeper, barking tones and an ability to lock in with and then fall out from it again for dramatic emphasis — see his feature on Barter 6's "Can't Tell" for an example of this technique at its unhinged, confessional best.
But also, the beat is stock footage and the chorus is neither sticky nor, sadly, as gritty as Boosie intends it to be: "Halloween (4x)/ So many niggas wearing masks/Halloween (4x)/So many hoes turn nasty." Sometimes, when Boosie leaps too readily for his favorite metaphor — jack o' lanterns recalling the faces of junkies — it can result in his message getting short shrift.
But few access high drama and emotional verisimilitude as readily and movingly as Boosie in street rap these days, so it's a shame — after the hype surrounding his release — that he has fallen back into such a marginal role in the public eye. He deserves more than being regarded as a humorless Dirty South elder statesman in the Jeezy vein. Boosie is focused on being a storyteller these days, using the beat as a means to an end rather than a jumping point. The clipped, lithe figurations of the ATL and West Coast artists that are at the forefront of street rap today are not his forte, and he no longer attempts playful street anthems in the vein of "Wipe Me Down (Remix)" and "Set It Off" — the type of songs which gave him a national platform the late '00s. But what he does deliver should be valued, and a year-end Best of Boosie mix will be a crucial artifact.
JERE~MEH~, MORE LIKE
The weekend also found fans clamoring over new tracks from Chicago singer and rapper Jeremih — apparently, new selections from his years-delayed sophomore album, Late Nights: The Album.
People doubtless wouldn't have cared so much about these drops if not for the cult success of his 2012 mixtape, the muted Late Nights with Jeremih, which was undoubtedly both a welcome and more experimental left turn from the garden-variety crooner still most well-known for the unintentionally comic 2009 slow jam and platinum single "Birthday Sex."
With so-called "bedroom R&B," "ratchet R&B," and other condescendingly monikered strains of vanguard hip-hop on the rise in recent years, Jeremih's stature has risen further. The YG-featuring "Don't Tell 'Em" was among the most successful singles in Compton producer DJ Mustard's unprecedented run of Top 40 singles from last year, and Jeremiah's third platinum one. Yet, still no sophomore album from Def Jam.
I loved Late Nights — it's one of my most played R&B releases of the last five years, and certainly predicted recent trends in the genre — but I'm not sure about the potential of these new tracks. I really feel no reason to trust Jeremih. Every drop from this album has come across as either lackluster or perplexing. The J. Cole-featuring "Planes" from earlier this years has been the most promising, except for the J. Cole part— a slow-building, hypnotic monologue of a track. "Don't Tell 'Em" — though initially welcome in rotation — was one of the Mustard hits from last year that began to grate fast after endless radio play, just behind Trey Songz's maddening "Na Na." Nothing worse than extended exposure to the "I act a fool, Bobby Brown with it" recited so dramatically on one note (give me Jay's ode to music industry wifebeating in his "Crazy in Love" verse over that).
Friday's leak "Royalty" feels like more a Future song than a Jeremih track, and not a great one. Though its dirge-like production is unusual, its nursery rhyme of a hook is unconvincing, cutting-room-floor stuff. Another new drop, "Oui," is fine, though propelled by what sounds like half of a strong chorus. More than the other songs we've heard in the past year-plus, it accesses the down-sampled, bass-shy aesthetic of the Late Nights mixtape, but it falls short on the inspired songwriting front.
But if anyone needs hard evidence that Jeremih's possible madman status could be a detriment for him, though, please peep his Halloween offering — ARE YOU SENSING A THEME HERE?! It's a psychosexual vampire video for his hardly-there new single "Lil Freak Shorty." Not only is the song something of a half-idea, the video is a braindead, messy combo of the visuals for "Monster" and "Danny Glover" that hardly deserves the True Blood comparisons it's garnered.
My best guess is that Late Nights: The Album will suffer from its extended gestation — which may be on Jeremih's shoulders as much as his label's — artistically, as well as commercially. The horrible modern trend of long-delayed and half-modified hip-hop albums can make for some variegated results, and I've heard little of Jeremih in the past two years that's unconditionally reassuring.
CONCLUSION: WESTERN COMFORT
As much as I value ol' reliables like Thugger and Boosie, and support the continuing proliferation of Chicago hip-hop, these days my hopes for the future of rap are turned to the West Coast: specifically, the Bay Area and Sacramento.
Vallejo's Nef the Pharaoh's spring drop "Big Tymin'" grew unusually long legs for a Bay regional hit. The 20-year-old rapper is scheduled to drop his first EP on E-40's Sick-Wid-It records this Friday, which packs some of the most enjoyable, low-stakes slappers I've heard this year.
But the most undersung rapper on the hottest streak this year is Sacramento's Mozzy, who just got his first proper writeup at Pitchfork this week. He's three mixtapes deep in 2015, with another, Down to the Wire due out this month. It's hard to pick a favorite. The rapper delivers slang-heavy, evocative gangsta rap, and his unrepentant attitude and attention to detail has few peers in the current rap landscape.
My hope is that one or both of these guys will break through in a bigger way nationally, and be able to put on for a region that has been consistently putting out big amounts of entertaining and often fantastic hip-hop since the early '90s. Halloween weekend had its charm, but I can't wait for the coming month.