Everything We Know About 'Chance 3'
The Chicago rapper has something prepared for us, likely in the next few days. What does it look like?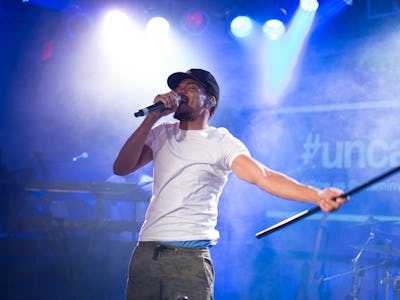 Dave Kotinsky/Getty Images for vitaminwater)
Are you exhausted by new music? Are you drinking the LEMONADE, listening to Views, or still poring over Prince albums you'd never listened to before? Maybe you're camping out at home waiting for the Radiohead album to materialize on some cryptic new website.
Well, too bad. Be prepared to defer your attentions again very soon: The rap release of the year will be arriving very soon, possibly within the week: Chance the Rapper's new mixtape, Chance 3. The 23-year-old Chicago rapper recently released the album art, and intimated the rollout in a now-deleted tweet. He's also selling posters for the album, $20 for a pack of 10, on his website.
There are many reasons to be excited about the impending project, which Chance hinted would be released last night. A new theory, given recent tweets and the cover art release, is that, similar to his drop of his "Angels" single after an appearance on Late Night With Stephen Colbert, that the album or mixtape will appear around the time of his appearance on The Tonight Show this Thursday.
The most important thing is that the initial leaks have been good. "Angels," featuring fellow Chicago up-and-comer Saba, has been the most prominent leak, which continued and expanded upon the arrangements on the work of his band Donnie Trumpet and the Social Experiment on last year's Surf, as well as some of the most ambitious, dense productions on his breakthrough 2013 mixtape, Acid Rap. It's likely that the most subdued "Israel (Sparring)" [feat. NoName Gypsy] may also show up.
Chance is a refreshing young artist with an inimitable style. He borrows from numerous recognizable places — from Kendrick to Eminem to Weezy to Kanye — but there is a very distinct, homegrown perspective and unique sonic vision to his songs, which doesn't have many peers. On what is perhaps the highlight of Kanye's new album, The Life of Pablo — the Chance-featuring "Ultralight Beam" — Chance's forefather seems to be taking his cues from the younger rapper. It's an electro-neo-soul-and-gopsel bromide in the tradition of the Social Experiment's "Sunday Candy," with a distinctly 'Ye self-seriousness overlaid.
Kanye's not the only veteran artist who is interested in working with Chance. The Social Experiment's Surf saw guest spots from Busta Rhymes and Erykah Badu, as well as more high-profile younger acts from Migos' Quavo to Big Sean.
The rumors surrounding Chance 3 indicate even bigger things to come. In March, Lil Wayne indicated that he was recording verses for some of Chance's new music on his LiVideo channel. This week, hip-hop's most formidable and motivational mogul, DJ Khaled, was spotted at a video shoot with Chance in Miami. There's both no confirmation of whether it's for a Chance or Khaled album cut, but either way, the final product should be a strange and wonderful thing to behold. Given the fact that the director of Chances "Angels" video was on hand on that trip, it seems likely that Khaled may have lent his trademark, inspirational bellow to a Chance 3 track.
Also, the storied but notoriously unprolific Jay Electronica made it pretty clear he has something on the docket with Chance, that the Chicago rapper is helming. The tweets have since been deleted, perhaps part of Chance's aim for maximum secrecy.
One hopes that, despite bringing on the big-name talent that he can certainly corral together at this point in his career, he will still continue to put on the young Chicago acts that have compromised most of the best features on his previous releases.
In the meantime, a fan-driven viral marketing campaign of sorts seems to be in action. Chance 3 posters are appearing around cities all over the country; the rapper has been tweeting and retweeting images of random street corner papered in them.
Chance, in music and in his marketing, tends to do things his own way: He's stayed independent despite his enormous success, and never charged for any piece of music he's released. For Chance fans, the rest of this month should prove to be an exciting tape; it seems unlikely that this project could be something less than monumental.