Chicago Rapper Saba Talks 'ComfortZone,' Working with Chance the Rapper, and the Future of Windy City Hip-Hop
Saba's new video for "TimeZone"/"Whip (areyoudown?)" premieres today.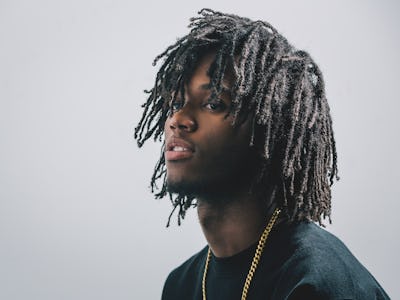 Bryan Allen Lamb
The most awe-inspiring performance on Stephen Colbert's new Late Show featured Chance the Rapper. Chance, a couple of footwork dancers and a unidentified flying rapper delivered a dizzyingly energetic stage show, backed by Chance's usual accompanists, The Social Experiment. This was the debut of Chance's new single, "Angels," his first since 2013, and full of shout-outs and paeans to his hometown. The unknown featured rapper and hypeman was Saba — a fellow Chicago up-and-comer in his early twenties.
The rapper and producer scored a coveted spot on Chance's breakthrough mixtape Acid Rap, as well as this year's free Social Experiment album Surf. Blog buzz surrounding his locally touted 2014 mixtape ComfortZone has been slow but steady, accumulating as Chance, members of his extended SaveMoney family like Vic Mensa, and other young Chicago MCs have risen in popularity. Thanks to them — as well as elder statesmen like MC Tree and Vic Spencer — the national associations with the local hip-hop scene are no longer limited to standalone stars like Kanye and Common, or the heavy-duty street rap of drill MCs like Chief Keef, Lil Durk, and Lil Herb.
Saba's refreshingly transparent approach to storytelling — mixed with an increasingly attenuated and unusual sense of how to interact with his beats — distinguishes his work amidst the busy, chock-full-of-talent Chicago hip-hop scene. Saba is at the forefront of a new wave of young, precocious local rappers on the rise behind Chance and SaveMoney, including disparate voices like Mick Jenkins, NoName Gypsy, and Lucki Eck$. Saba's frenetic style postulates a dynamic future for Chicago music, which will hopefully continue to grow a more national fanbase.
Today, he puts the cap on his promotion and touring for ComfortZone with a new video for its leadoff track, "TimeZone"/"Whip (areyoudown?)". Check it out below.
So tell me about the inspiration for the video…
A big inspiration for the video was the cover for Lupe Fiasco's Food and Liquor — with him in space, and a bunch of shit flying all around him. It's my favorite album ever. We've been working on the video for hella long. We started shooting in March so, it's good to finally be done. We just wanted to bring the world in space, without having a super expensive team to work with. I think we did a pretty decent job.
What is it about Food and Liquor that you love?
Lupe was a hometown hero for me. Not in the sense that he was from Chicago, but even more specifically where he was from in Chicago. There's a bunch of Chicago rappers, but most of them are from the South Side. So me being a West Sider — we consider it the part of Chicago that nobody talks about and gives it due credit.
Lupe, for me, was that guy. Kanye was too definitely, but I gained a lot of confidence from listening to Lupe — this kid who looked like me and was from where I was from. Being 13 and hearing that was inspiring on a whole new level, as far as letting me know it was possible to do what I wanted to do with music. It was huge.
How else was your musical perspective shaped by growing up on the West Side?
What got me into music was Bone Thugs-n-Harmony. That was the first music that I ever listened to and loved for real. With that came me hearing about Crucial Conflict, Twista, Do or Die, all of these people that were from where I was from and hadn't really been talked about mainstream, like, super crazy.
Obviously, Twista was killing at a point, but he always seemed secondary to Kanye and Common and stuff like that. Like even now, all of the rappers like Chance, Vic [Mensa], Mick [Jenkins] — all of them are from the South Side. Even in sports — Derrick Rose is from the South Side. There still aren't really many West Side rappers that are being praised. But it's bound to change in due time — that's how the world works. Early on, it helped to know that I wasn't the only one. So I always feel like it's that much more important to let people know that yes, I'm from Chicago and yes, it's all unified as one Chicago, but I'm specifically from the West Side.
Were you hearing stuff like Bone Thugs and Crucial Conflict in your everyday life, or did you have to seek that music out?
I had to kind of find it. I was raised by my grandparents, and they obviously weren't bumping hip-hop on the daily. My grandma did like "Power of a Smile" by [2pac featuring] Bone Thugs — that was the exception. I remember that my brother had this burned CD of a mix, and [Biggie and Bone Thugs'] "Notorious Thugz" was on it. I heard it and couldn't believe something sounded like this, like… sonically. All of the syllables and the harmonies — everything spoke to me. That's what got me into music, and that was the day where I was like, "Okay, I'll just be a rapper for the rest of my life." That Christmas, I got like studio equipment and stuff. It unfolded from that moment of hearing that song.
I know you started playing piano really young, and now you do super-involved production for yourself and others. You even have a beats tape, SpareChange, that came out earlier this year. How did you get into the production end of things?
For me, it all started around the same time. My great grandmother had a piano at her house, like the type of big-ass old piano that a great grandma would have. I went over there with my cousin and my brother one day, and we were all just kind of like mashing and making real vampire noises with the piano — everyone at the same time. I was playing "Mary Had a Little Lamb", and my grandma goes, "Oh man, you're actually really talented. Everybody stop, let him play." I was just playing that for like 20 minutes.
That week, she told my grandfather that I could have the piano. I don't know how, because the piano was big as hell, but they brought the piano to my house like the next month, and I started piano lessons. I was probably seven.
With that came an electric keyboard, with a bunch of beats in there — like the Casio stock sounds — so we started just rapping to that. When I was eight or nine, I really started to take it all seriously. Have you seen Drumline before?
Yes.
Okay, so you know how Nick Cannon didn't know how to read any music, and he was just kind of memorizing everything? That was my real life. I would go to lessons and I had this book full of notes and stuff, but I didn't know how to read any of it. I would just memorize what my teacher would do, play it back and look like I was reading.
But it caught up with me. I only stayed in piano until I was 10 or 11, but I always kept playing by ear. I took some theory when I got to college, so I know a little bit. I can make it look like I can play really good, but I can't..
In the past couple years, you became involved with YOUMedia [a community outreach space run out of downtown Chicago's Harold Washington Library]. Obviously, a lot of young rappers have come out of the Chicago open mic scene: the SaveMoney guys, Lucki Eck$, NoName Gypsy, Mick Jenkins and so on. What did you learn going there, and in what ways was that important for you and your career?
One of my really, really close friends Fresh invited me to an open mic. He's kind of like an older brother to me, and would come to my house a lot to work on recordings and hang out. He made me go to YOUMedia. At this point I was 16, and didn't really talk to people. But I went to look at how everything works. I did that for weeks before I actually had the guts to go up and rap.
It was just a lot of like minded individuals all in the same age group — 16 to 20. They were young people who had a voice and wanted their voices to be heard and wanted to get better. I met a lot of people in the Chicago rap scene, who are kind of the leaders of it now. But also, I met some of my best friends, and the best producers and writers that I know.
When I went there, I was super shy — super afraid of the world — and I left as a man. I left being able to command and control a crowd. I became a better writer, and more personable with my style of writing. I could tell my story how I wanted it to be told. I was a decent rapper when I started going, but the problem was all my raps were all like, "Yo I'm really raw at rapping … because I'm a raw rapper." I was just rapping about rapping. Going to YOUMedia and hearing people tell their stories, it inspired me. I always knew it was something I wanted to do, but I never knew how.
Brother Mike [Mike Hawkins] — the man behind YouMedia who passed away last year — was all of our mentor. RIP Brother Mike. He was an adult who believed in the youth in Chicago, and the youth, period. Being 16, I think confidence is one of the most important things, because I feel like that's when the world is out to eat you alive if you don't get it together. I was fortunate enough to have Brother Mike in my life and to kind of mold me into a confident individual who wanted to share his stories. That's one of the most important things I got from YOUMedia. Also, I started making a fan-base.
When would you say was the first time that you felt amazing or sure about something you recorded?
I always knew that was what I wanted to do, and I was always confident in the music I was making. But looking back now, all of those early records were just trash. When I was nine or ten, I wasn't using real words. Bone Thugs inspired me to rap so I was just going into the studio and mumbling on, like, three tracks. That would be the song, and I just thought it was the rawest shit. Obviously it was terrible, but I never doubted if this is what I wanted to do or not.
How did ComfortZone come together?
When I was 16, I decided that I was going to make a project called ComfortZone, and how it was going to sound. I was just too stuck inside of myself and I noticed that it was working against me. I was trying to be this huge rapper, but I was just this loner teenager who was afraid of the world. ComfortZone, to me, was more of a life project. I thought, "I'm going to fix this, get opposite." I spent so long just working on ComfortZone. It changed my life not because I'm a rapper or a minor Twitter celeb now or something, but as far as how I think, how I view people, and how I view the world.
I think it came out how I wanted it to. Listening to it now, it does have its flaws. I would do things differently now as an artist who has grown from making that a year or two ago, but that's the good thing about art. It's like a journal where you can hear exactly what you were thinking each day. I can hear my voice getting deeper.
Obviously, my life in the music shit is completely different now. When ComfortZone came out, I was kind of sad about it. It didn't do what I imagined it would. But now, in November 2015, I think it basically did everything it was supposed to do.
How would you describe your music? What do you consider to be its most crucial elements?
It's melodic rap — so not even really rap, always. It's cluttered, but not in an ugly way. There are a lot of break beats, and a lot of minor chords. Neo-soul stuff is usually my inspiration before I make songs. That's where I go if I need help finding something.
I think it's a nice balance — being a hard rapper but doing the soft melodic singing. I don't consider myself a singer, but I sing a lot.
I think you can really hear that it's a growing person just speaking on his truth at the time. I think with all rap, there should be some type of disclaimer: 'Subject to change'. I hope you can hear the truth of the time.
After appearing on [Donnie Trumpet and the Social Experiment's] Surf and then on Colbert, your music is spreading even more. I wanted to talk about that experience, and how it's been working with Chance during this crazy time for both of you.
Chance is a very genuine person. When he reached out to me to do Acid Rap, we had known each other from back in the day, but we were never really close. We were close enough to know we were fans of each other. The music brought us together. He was willing to take a risk that a lot of artists won't once they get to a certain point, because we all knew how big Acid Rap was going to be way before it came out. He reached out to me very randomly. To this day I don't know where he got my phone number. He texted me and it was like, "Who is this foreign number asking me to get on their tape?"
Since then, he's always been looking out. Obviously, he's going to do what he does because he is at that level now. But he's still very involved in things that you wouldn't think he would be, and really concerned with morals, family values, that sort of stuff. Him and the whole Social Experiment — I consider them family. They just support me in a different kind of way, a genuine way.
When I did Acid Rap I had no idea what would come from that. Once it dropped, nothing changed in my life at all. It was weird to me that this album is huge, but nobody even knows I'm on it. It was more about the relationships I built from it, and the people who believe in me now. Sometimes it just takes a cosign from somebody you believe in to believe in yourself. Now I feel like I can call Chance because I know that he's experienced already a lot of what I'm experiencing — or maybe what I'm about to experience. I can just ask questions and he'll be cool about it.
What do you like about being a rapper in Chicago, and what don't you like?
I think my favorite part about the Chicago rap scene is that most of us have known each other for years now. I met a lot of those guys when I was 16, 17. I've never been BFFs with a lot of rappers in Chicago, but I still have known them for five years, and it feels almost the same. It's competitive, but it's also very collaborative. It's friendly competition; no "I hate you, I'm about to kill you." Being able to see my friends winning, and them seeing me — it's a good feeling. It's a great time to be from Chicago, and a great time to be an artist from Chicago. I don't know what I don't like about it, right now.
I think this is just the beginning. I think a lot of people thought after Chief Keef blew up — or after Chance blew up — that Chicago would be done. But I think it's still the beginning. Most of us are not even 23, so I don't know why people think we're going to disappear or fall off the face of the Earth. Most of us are the definition of independent. Recording ourselves, mixing ourselves, producing ourselves, and that's a lot of what's made Chicago what it is right now. We've been waiting for the industry to come to Chicago for so long, and now it's like, "Fuck it, we don't need it." Artists from Chicago are getting out onto that next level. Some of the people I'm a huge fan of haven't even made it to that national level yet and are still very young.
Who are some of those artists?
I featured Legit on ComfortZone — he's one of those unsung guys at the moment. But I think the future's pretty bright for the young fellow. But yeah, I think that's the one because he was on my tape. I don't want to name too many people and get these text messages after the article comes out, like, 'Where's my name?"
What are you working on next?
I'm just making music — as close to every day as I can. The internet hasn't heard the new stuff, so it's a clean slate. I don't want to do anything prematurely. I don't want to make any moves I'm not ready to. I'm just going to lay low — work on my singing. It's been working out so far but I think the real test will be when I drop that first track. Then we'll know what the rest of the road will look like. I think the cool part about this one is having access to a lot more engineers, musicians, and artists in general to work with. It's been a year and a half since ComfortZone dropped and most of it was written before that. So much has happened. So I'm really excited for next year.
Chicagoans can catch Saba headlining at the Abbey Pub in Chicago on Friday, November 21st.