Kanye West Updating 'The Life of of Pablo' Is A Gamechanger That Everyone Should Copy
In 2016, maybe West's strategy is the way to combat short attention spans, as well as increase profits.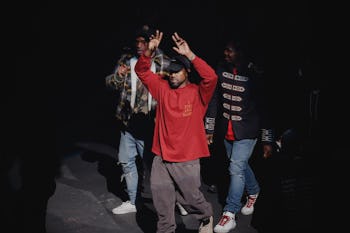 JP Yim/Getty Images for Yeezy Season 3
In the current news cycle, artists spend years of their life eking out albums that hardly last for more than a week or two in the headlines. With the advent of the surprise album drop, sometimes "event" pop albums seem even more ephemeral. The coverage and hype surrounding Rihanna's album, for instance, felt like a flash in the pan, though she, as an enduring celebrity and icon, has a solid year-round place in the news cycle. Adele's moment, too, seemed to come and go, once it became clear that the album would not yield another "Hello"-level hit. Even if one would like to spend more time with a given album, the pop culture devotee is inevitably carried along by the tide toward the next big thing.
So for as annoyingly drawn out as the rollout of Kanye West's The Life of Pablo was (especially for a writer working to cover every update or incendiary, loosely related tweet), and as absurd as it seems that West is refusing to formally "finish" his February album The Life of Pablo, it's also understandable that he would persist. In fact, it seems crazy that more musicians aren't treating their albums as fluid constructs. In the long run, it might actually benefit musical culture.
I'm not speaking from a creativity-over-everything angle ("no art is ever truly finished" or the like) or even from a monetary standpoint ("All artists should try to maximize their profits in this dire time for the industry"). Simply as a way of holding the public's attention span, Kanye's choice to continue to tweak The Life is Pablo indefinitely is genius. The strategy encourages fans to focus back in on the music itself rather than West's own extracurricular activities and Twitter timeline. It encourages people spend time processing an album that deserves it: a bewildering, sprawling, and controversy-courting piece of art. Because of the insane amount of attention focused upon the album, the world initially felt obliged to formulate a knee-jerk response to it. When addressing work as ambitious and highly charged as Pablo, there could be no worse mistake.
One could dismiss the TLOP changes as absurd and fussy. The first round of mid-March, though, were actually fairly significant: reclaiming Sia and Vic Mensa's prevalence in "Wolves," giving Frank Ocean his own track, making "Famous"'s patchwork of samples even denser. The second go-around last week, on the other hand, was more minor. The tinkering had to be pointed out by obsessive Redditors — a changed line in "Ultralight Beam," and a removed backing vocal track in "FML."
It must have been easy to swap TLOP drafts in and out, because before this past Friday, the album only had to be updated on TIDAL. Now Spotify, Apple Music, Rhapsody, and the new subscription service Soundcloud Go have been gifted with Pablo. West is also selling it, still for $20, on his website. It would seem that both Kanye and The Life of Pablo are settling down — that the album has taken its Ur-form: the one Kanye is comfortable entering into mass distribution (even though he swore he never would). Maybe he has just conceded to stop the madness, and get his sales up. All this came around the time of the announcement of a notable change of management: Kanye is now teamed with noted pop-star-grooming manager Scooter Braun. Braun, traditionally a consummate businessman, might well be more concerned with numbers and figures. Perhaps part of the goal was to report evidence of the increased profit on the new platforms to the charts.
Yet some people may have missed the fine print that came with the announcement of the expansion to all major streaming services. After it was announced that TLOP was coming to the wider streaming world, Def Jam, his label, announced to The New York Times: "In the months to come, Kanye will release new updates, new versions and new iterations of the album." The phrase "continuous process" was also used. The charade, it seems, is not over. The two rounds of changes were not just publicity stunts to attract new TIDAL users. No new TLOPs have surfaced since Friday, and perhaps they never will. But even just with the cryptic NYT announcement, Kanye keeps the world searching and wondering.
In the end, all of these maneuvers stand as evidence of Kanye's particular, thoroughly contemporary genius: They are grounds for respect rather than ridicule. Everyone is paying attention, and engaging with this album — over time rather than all at once — thanks to the rapper's disruption of the ephemeral hype cycle. With the album's release across all platforms, a whole new group of people who were unwilling to shell out the necessary cash for Pablo or a TIDAL login are discovering this music for the very first time. All this has happened, despite the album being absent from the charts, and without a hit single to keep people invested. In other words, the industry "rules" apply as little to the Pablo phenomenon in the music world as the Trump campaign to American political protocol.
In looking back preemptively on the Pablo era, there's a lot wish a lot hadn't happened — maybe a couple less album title polls, a couple fewer "I'm in debt" Twitter litanies, and definitely one less Bill Cosby-related tweet. But one thing I am not annoyed by, and in fact welcome, is the idea that The Life of Pablo will never actually be finished. Keep the world's attention on your album, Kanye; it's more likely to be remembered the way it should be, if your breadcrumbs always lead back to the music itself. We need help remembering to focus back there in this day and age. Now it simply remains to be seen: will West's iconoclastic model be something other artists find a way to adopt?