Rihanna's New Album 'ANTI' Is Either Boring or Rebellious
Rihanna's long-awaited album is now available for free download, and will be available exclusively on TIDAL in a deluxe edition this weekend.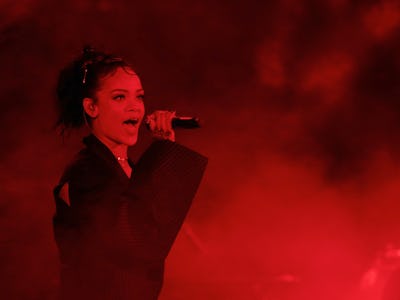 Christopher Polk/Getty Images for CBS Radio Inc.
"This whiskey got me feelin' pretty / So pardon if I'm impolite," Rihanna croons at the beginning of "Higher," the penultimate track on her eighth album, ANTI. Even over the buzzing synthetic violins and phased-out drums, there's a pop-bluesy affect to her vocalizations her that conjures the fleeting image of Elton John. The self-conscious edginess that has distinguished her among her pop peers rears its head musically, rubbing up against and transforming a relatively nondescript song that might otherwise fade into the woodwork of the album. Though it is, at its heart, a musically anonymous, nostalgic power ballad in the lineage of Whitney and Mariah, Rih's vocal performance — which strains her voice at its most crucial moments to the point that it sounds truly painful — makes it something memorable.
This pendulum-swing between experimentalism and recycled pop tropes — polish and a bit of feralness — is all over ANTI-, the Barbadian singer's first since 2012. The structures off of which Rihanna is building are pretty toned down and simple, made more potent by lyrical flourishes and moments of unexpected pointedness. It feels both blasé and vaguely contrarian as a pop album — the logical musical equivalent of traipsing around in the uncanny, Samsung-endorsed Matrix dreamworld of her digital advertising campaign. The listener will spend some time trying to get her bearings — as in the "rooms" of the app, trying to find something to really grab onto.
It's often true of Rihanna songs that bits, often the chorus, feel like easy placeholders for more compelling ideas that were never realized. From "What's My Name" to "We Found Love" to "Bitch Better Have My Money" — the banner single of the pre-ANTI period, which does not surface here — unlikely, too-simple central hooks end up being deadly effective after repeated listens. Here, that pattern is borne out across the songs on this album to more low-stakes effect: Nothing here sounds like an undeniable, obvious single, but nothing — with the exception of one-minute neo-soul weed tribute "James Joint" — sounds aggressively uncommercial or hard-to-parse either.
If there's one thing that's particularly striking about ANTI, it's the extent to which one's eyes can just glaze over and almost completely miss the particulars of a song or two while still luxuriating in its atmosphere. This is not because the songs are too similar to one another stylistically — indeed, she is still basically shifting styles and even vocal personae (see the Etta James/Amy Winehouse theater on "Love on the Brain") entirely between each of them. It's more an issue of texture: The pervasive vibe is lazy and slightly hypnagogic, in both the songwriting and production, which is rare for an event pop album like this one. It feels something like a symptom of a changing time for pop, in which artists more and more attempt to cultivate moods across albums, and advance singles are increasingly moved to the status of bonus tracks on deluxe editions.
The sound of the album is best defined by the trio of tracks in its center — "Woo," "Needed Me," and "Yeah, I Said It — which pair ratchet trap&B production of the sort that it is in some way part of the DNA of almost every pop and rap album these days with a druggy, slightly grim aspect. "Needed Me" finds Rihanna pulling clipped flows from Future wholesale and mean-mugging effectively ("Didn't they tell you that I was a savage?"), but the beat is full of borderline ugly, washed-out sounds that conjure the sound of a CD skipping. "Woo" is produced, in part, by mad R&B scientist and "Umbrella" author The-Dream, but it is as distorted and obscure as it is stylish, grounded by hulking bits of sonic machinery that refuse to identify themselves clearly as either guitars or synths. These songs are dreamy and slightly neurotic — eschewing pop climax and satisfying bass drops — and the album, too, as a whole lacks dramatic arcs and definition.
As a counterpoint to these tracks — and the new-wave trap-pop of "Kiss It Better" — the inclusion of Rihanna re-vocalizing a slightly extended mix of a song from Tame Impala's popular Currents album of last year makes more sense sonically than it might on paper. That's not to say that Rihanna's version of "New Person, Same Old Mistakes" is a high point on her album — in fact, one feels its six-minute-plus length much more than on Currents, if in large part because the track is twice as long as anything else on ANTI.
The extent to which Parker's song does not sound out of place on the album is a strange testament to the extent to which the same set of '80s and '90s R&B influences have permeated the vocabulary of indie as well as pop. The WTF element of its mere existence is fleeting; it feels perfectly and almost-too-on-the-nose 2016, if you blink and look at it again. Indeed, the nature of the song is indicative of ANTI as a whole: seemingly eccentric and unusual at first glance, and increasingly logical and idiomatic as one allows it to sink in. ANTI is an enjoyable and strangely relaxing listen, but as it settles, it's far from revolutionary in its particulars.
Get the new album for free through TIDAL now, using the code "ANTI."