37 Possible Titles for Kanye West's New Album
@kanyewest, we figured out what 'T.L.O.P.' stands for! Give us free Yeezy Season 3, you riddler you!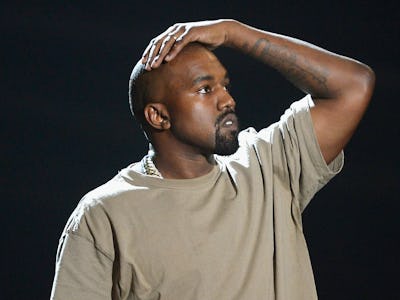 Kanye West Twitter
There's a new complication regarding Kanye Album Title-gate. Following Kim Kardashian asking the internet to vote on their favorite of the proposed titles for the project — which is scheduled to premiere on Thursday, and presumably drop officially on Friday — Kanye took to Twitter to propose a new challenge to fans.
This is getting tiring, and trying to parse out possibilities for that acronym is a good way to waste a couple of hours. We've seen plenty of idiomatic suggestions on Twitter:
But is Kanye really one to play it that safe? One would hope there's a little more to the puzzle. Here are some possible guesses Inverse would like to submit for consideration. If it isn't currently one of these, @kanyewest, you might be tempted to reconsider: There are some pretty strong concepts here. Maybe just go ahead and re-record the album accordingly.
The Lampposts of Piccadilly
The Lone Obstetrician (in) Plano
The Liberation of Petrograd
Twerk, Ladies of Pasadena
The Lingering Otter Problem
Tao Lin's "Otter Paradox"
Twizzlers (are) Licorice, Oliver Platt
The Last Operative Principle
Taylor Lautner, on Principle
The Life (of) Octavio Paz
Twenty Leagues of Pufferfish
The Leo Oscar Predictions
The Lucas Ocampos Project
Turbulence Lurchin' Our Plane
Total Lysergic Oblivion, Playaaaa
Tau Lambda Omega, Pussies
The Loneliness of Perfection
(Grrr,) Them Little Ornery Pissants (Chewed Up All the Corn. I'm Gittin' My Rifle, Livonia, You Stay Inside)
Tidal Lost Only Payingcustomer
Tommy Lasorda (is) Opening (for) Plies