Why Scooter Braun Managing Kanye West Matters
The self-styled guru behind Justin Bieber, Carly Rae Jepsen and others has a new client.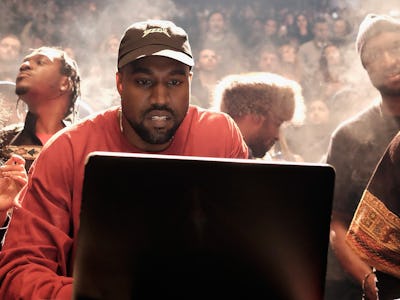 Getty Images
It's possible that we have Scooter Braun to thank for not needing to have TIDAL to listen to The Life of Pablo in the near future. Billboard reports that Scooter Braun, the man responsible for discovering Justin Bieber, has been advising Kanye West for a month now. While, according to Billboard's source, no formal agreement is in place, one could surmise that West heard out Braun during a time of extreme chaos, and that Braun could very well be the reason that West's The Life of Pablo is finally showing up on non-TIDAL streaming services. West is in business for West and Braun is in business for Braun — make no mistake — but their burgeoning partnership, formal or not, is one of the most intriguing behind-the-stage alliances in recent memory.
Braun's greatest weapon as a power broker is his penchant for developing acts himself, using his own network and his basic grasp of how a message can spread on social media. After all, he gave the world Carly Rae Jepsen through the medium of Bieber's extended online presence. (The first time I heard "Call Me Maybe," like most people, was through Bieber, Ashley Tisdale and Selena Gomez's goofy fan video, no doubt a Braun idea). Braun has a history of taking flyers on intriguing up-and-comers seeking worldwide audiences — Psy, the K-pop star CL, to name two. While those artists haven't exactly emerged as global stars (yet), he's always hunting for new markets and audiences to sell to.
West, who is already an enormous star, is by far the biggest client Braun has ever managed or co-managed, and the mind races to think of the scale of what kind of business can be done. While Kanye has had a tumultuous year and repelled his audience in an increasingly self-destructive way, he undoubtedly saw Braun steer Justin Bieber through his own troubles and into a career renaissance.
Braun's track record isn't spotless. Earlier this year, Ariana Grande fired Braun and not everyone he's managed has sustained Bieber's success through all the turmoil. (While Braun's plan for Carly Rae Jepsen's world domination turned out some critically beloved music, it also showed the limitations of Braun's approach). Both dudes are big personalities, and I wouldn't be surprised to see the relationship terminated. No matter how long this lasts, West is Braun's biggest project yet, one that will be revelatory about both mens' careers no matter how it ends up shaking out. There's either going to be a lot of money in it for them both, or a lot of noise.