How Tidal Can Fix Its Massive Kanye West Screw-Up
Tidal completely blew the release of _The Life of Pablo_. And yet it remains silent.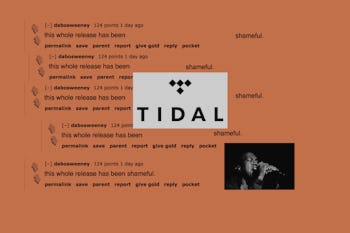 There's a chance that you heard about a man named Kanye West "releasing" an album the other day. Fans first heard The Life of Pablo either at Madison Square Garden or on a livestream via Tidal.
Tidal struggled with the livestream, as too many viewers overloaded the servers. Then Tidal struggled even more with the actual album release.
Fans could either stream the album on Tidal or purchase it for $20 — or so they were led to believe. (And not just a few fans, either. Look.) Instead, Tidal took everyone's money but didn't give anyone a download link. Sunday evening, Kanye announced on Twitter that he had "decided" to wait a week before he began actually selling the album.
Tidal is simply ignoring its massive and misleading failure, choosing instead to share "fun facts" about movies instead of responding to thousands of customer complaints being posted on reddit and Twitter.
Tidal could do itself some good by coming clean. And it must admit as much in a transparent fashion: Something along the lines of "This, specifically, went wrong; this is what we're doing to make reparations."
Of course Tidal has been dead for a while.