6 Great and Totally Underrated Prince Albums
Looking to get beyond classic '80s Prince? Here are some later albums you need to hear.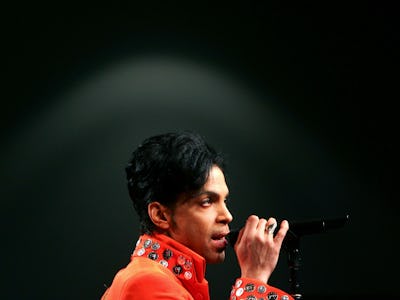 Jed Jacobsohn/Getty Images
The late and too-great Prince has a catalogue of albums that most self-respecting pop music fans are familiar with: Dirty Mind/1999 to Purple Rain to Sign O' the Times. That music, almost exclusively, was recorded in the '80s. However, Minneapolis's greatest star kept on for 26 years after that, releasing an album or even three (1996 was crazy) almost every year.
After the early '90s, his singles no longer lingered on the charts, but his artistry continued to blossom. Some of the albums from this period, and the early 2000s are difficult to get one's hands on. All of them require either an iTunes purchase, a TIDAL subscription, or (gasp!) a visit to a record store. If you don't have a CD player still, you can't really call yourself a Prince superfan.
It goes without saying that sifting through the huge lexicon of Prince albums (50+, including live albums, "video albums" and EPs) you may not have been brought up with is a daunting task. For those of you interested in exploring some unfamiliar corners of his discography, here are some essential entries you may have missed. Side note: getting TIDAL just to listen to Prince is more than worth it.
Available via iTunes, TIDAL, Amazon, and Discogs
The 1991 album was the first billed to his new band, "The New Power Generation," who ended up being just as prolific as his iconic "The Revolution." It's also his first album to address hip-hop, and perhaps does the best job with it of any of them. "Cream" is Prince's last Top-10 single, and it is one of the anchors of this album, along with the title track and "Gettt Off": iconic, hyper-sexual dirty "Darling Nikki" funk meets West Coast gangsta hip-hop — with heavy flute. It wouldn't be a Prince song without some totally unlikely touch like that.
There's plenty of uncharacterizable genre-hybrid stuff, too: "Willing And Able" is one of the weirdest/best Prince hip-hop forays, coming as it does over a Paul Simon-style, vaguely Latin chart, while jazzy "Strollin'" sounds a little like Prince doing Steely Dan at their smoothest. Diamonds and Pearls was the beginning of the end — or if you go off singles placement — the end for Prince's era of commercial dominance. But it's a watershed record for his career, and a logical first step for fans of "classic era" Prince into his sprawling body of work from the subsequent two decades.
Available via TIDAL, Amazon, and Discogs
Lovesexy is considered the lesser moment of Prince's '80s output, but then again, the rest of his '80s albums rank among the best pop music made in that decade. Period. The album — a replacement for the shelved Black Album — was intended as a connected suite, and the CD/TIDAL versions of the album are divided into separate tracks. It features a lusher, slightly more straightforward version of the funk styles he had developed across albums like Dirty Mind and 1999, putting the rock and psychedelic overtones to the side. "Alphabet St." stands as one of his finest singles, and it's a great album for distilling the essence of Prince's musicianship.
Available on iTunes, TIDAL, Amazon, and Discogs
Prince found his '90s voice here, and made the New Power Generation's finest album. Track-to-track, the album is all over the place. It leads off with trademark Prince numbers "My Name is Prince" and "Sexy M.F.," and from there branches out into inspired experiments like the reggae'n'B of "Blue Light," and several of the prettiest slow jams of Prince's career ("Damn U," The Morning Papers"). There are also hyperactive, breakbeat-driven rap and house-influenced tracks, and skits featuring…Kirstie Alley. Fans of Parade's constellation of weirdness will be particularly disposed to enjoy this truly wild album.
Available on TIDAL, Amazon, and Discogs
Prince's '80s music was one of the primary influences on the direction of 90s R&B and hip-hop — see, especially, the productions of former Time members Jimmy Jam and Terry Lewis for Janet Jackson. But in the '90s the godfather himself was finding ways to adopt the sleeker sounds of the decade (in their way, updates of his own ideas) into his musical vocabulary. Emancipation is way too long — a 36-track triple album! — to be great. However, along with the usual jazz, psych, and rock diversions, it features a unusually strong lineup of catchy, lush R&B songs, especially on its first disc.
Emancipation, his first independently-released album, is more conventional than the better part of his catalogue in style, but propelled by the kind of razor-sharp songwriting and left-field arrangement details only he could have concocted. "Right Back Here in My Arms" almost sounds like Dr. Dre could have produced it; "Somebody's Somebody" wouldn't have been out of place on an early TLC album. Highly recommended.
Also, he covers Bonnie Raitt (beautifully):
Available via TIDAL and Discogs
It wouldn't be a worthwhile Prince list without one of the albums that's generally shrugged off as a one-off experiment. At the turn of the millennium, Prince was mostly concerning himself with releasing albums in MP3 to members of his subscription club; it was one of many stages of Prince's obsession with finding a way to control his output during different capricious times for the music industry.
Xpectation is heavily instrumental, and mostly functions to highlight the depths and versatility of Prince's compositional skill. The best way to characterize this music (driven by Prince on tJoe Zawinul-esque Rhodes piano) is jazz. There are big-band stylings ("Xemplify"), hard fusion ("Xpectation"), harder, '70s-Miles-Davis fusion ("Xpand"), as well as more atmospheric dalliances featuring violinist Vanessa Mae. Worth listening to as a way of understand how deep the man's love of music went, and a clear document of an artist challenging himself to write fleshed-out music in a completely different idiom from his standard work.