How Chance the Rapper Stands Out in Rap's Dark 2015
Why "Sunday Candy" may be the song of the year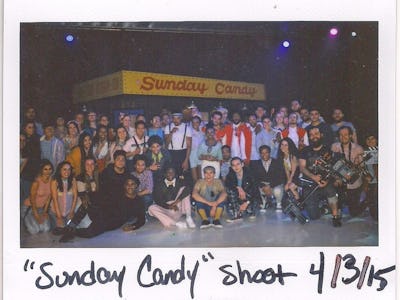 YouTube
Today, Chance the Rapper stopped by the Chicago daytime TV show Windy City Live with his band the Social Experiment. They performed "Paranoia" – the Nosaj Thing-assisted back half to Acid Rap's "Pusha Man" – and "Sunday Candy" from Donnie Trumpet's Surf.
The performance was a reminder that the ebullient "Sunday Candy" may be the best song of the year. Just look at that kid in the Myrtle Beach Pelicans shirt! That's the face of joy.
2015 has been defined, largely, by serious, dark, and important rap releases. There haven't been throwaway albums – just definitive statements. Drake got bolder and made enemies on If You're Reading This It's Too Late. Kendrick Lamar's To Pimp a Butterfly confronts the difficult realities of being black in America. Earl Sweatshirt never leaves the house. And Vince Staples's version of summer is post-apocalyptic-sounding with the harshness of a tough upbringing. It's been a highly rewarding yet seriously tiring year in rap.
Chance snuck in with Surf at the end of May, running counter to rap's prevailing trends. It's a solid album that, at times, veers toward repetition. The prevailing theme of goodness, however, is best encapsulated by "Sunday Candy."
The song was first released last November, but finally feels in place on Surf. Contrary to most rap songs, "Sunday Candy" is best experienced live, as evidenced by the Windy City Live performance, because of the happiness it brings anyone listening.
"Sunday Candy" is both simple and deep. The song is about Chance's love for his grandmother – straightforward – but resonates incredibly strongly by focusing on such a specific, personal symbol for his love: his weekly church visits with her. We can relate, thinking of our own special relationships, but we can also indulge in Chance's love in particular. Hearing someone else feel so good just makes you feel good too.