Radiohead Releases 'Burn the Witch' Music Video
After deleting its entire internet presence, Radiohead posts new music.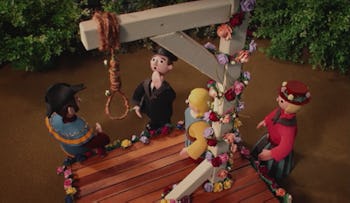 Radiohead has spent the last week or so deleting its entire internet presence, giving further credence to the notion that a new album or new music is happening soon. Today, the band uploaded a group of teaser trailers, as well as a new music video for a single called "Burn the Witch."
The video itself contains some signature Radiohead cheekiness; it's mocked up to look like a more sinister version of Davey & Goliath, where a group of townspeople join arms to burn a giant effigy. (Also, a woman is tied to a tree, a noose is inspected, and so forth). A B-side that fans have called "Burn the Witch" has existed for years, and this does indeed sounds like a revamped version of that song, not unlike how the band completely rebuilt "Reckoner" for their album In Rainbows. Watch the entire clip below and check out the other teaser-Instas the band posted. It is unknown whether "Spectre," the song the band recorded for the Bond film of the same name, will appear on this new recording.