Why a Little Company Set Up by Colin Greenwood Means a New Radiohead Album Is Coming
"Dawn Chorus LLP" could mean the legendary British band's first album in five years is just around the corner.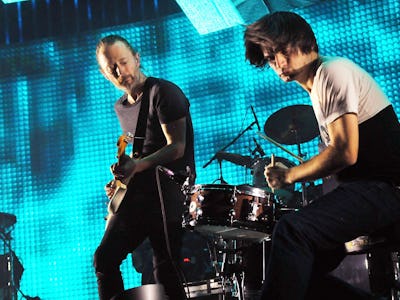 Getty Images
The biggest rationale for the speculation that a new Radiohead will be materializing very soon is very strange: It's all because of a newly uncovered company registered to the band's bassist, Colin Greenwood. "DAWN CHORUS LLP (OC402167)" shares its name with a song Radiohead fans recalled Yorke mentioned in passing in a 2009 interview. The company has been registered since October, but wasn't uncovered until recently by fans.
A name on an archival website of British companies probably wouldn't be such a big deal if Radiohead hadn't made a habit of registering different absurdly titled companies for the release of each of their last two albums. Xurbia Xendless Ltd. preceded 2007's In Rainbows, and 2011's The King of Limbs was released by Ticker Tape Ltd.. The Independent published an analysis of the benefits of folding everything related to a specific album into one company today, but the basic gist is: These limited companies help assure and secure more profits for the band and investors. It also works as a bizarre kind of performance art.
There have been a lot of pretty explicit confirmations that the timeline is right for the album to see the light of day. Studio photos of the band surfaced back in September, and by the following month, drummer Phil Selway and guitarist Jonny Greenwood had both commented about progress on the project ramping up.
Some people even got excited when the band changed their Facebook cover photo to an unfamiliar moon-terrain-like design on Christmas.
Now, Nigel Godrich — the band's longtime producer and, also, Force Awakens stormtrooper — has lobbed off a tweet which stokes the fire even more, even though its just a GIF of reel-to-reel tape running. Stay analog, bros!
What's going to be on the new album? Radiohead are notorious for trying out all sorts of material on tour, and there has been pretty endless speculation about loose, bootlegged tracks that could end up on this Dawn Chorus-distributed project. That ranges from full band performances since the release of King of Limbs, to songs Yorke has done solo renditions of recently, to much earlier odds and ends.
There are no certain candidates, but if the material is at the level of quality, or has any of the lush sensibility of the rejected Bond theme they released on Christmas, the discovery of "Dawn Chorus" is more than cause for rejoicing. Roll over, Noel Gallagher and Sam Smith.