Here's Why Apple's Cheapest MacBook Pro Has So Little RAM
Is 8GB enough for MacBook Pro users?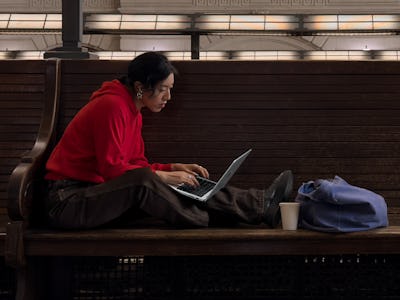 Apple
Apple revealed its upgraded MacBook Pros more than a week ago and everyone has been oohing and aahing over the new space black color. However, a lot of consumers have expressed disappointment with the entry-level $1,599 MacBook Pro's wimpy 8GB of unified memory (commonly called RAM in the PC world).
In 2023, 8GB of RAM just doesn't seem enough to do any modern computing before your whole machine slows to a crawl, right? Many phones have as much RAM as the $1,599 MacBook Pro; some even have more.
So what gives? Why is Apple — a company worth nearly $3 trillion — nickel-and-diming consumers with so little RAM in a "pro" computer when it absolutely could set the bar at 16GB? An Apple executive has stepped up to the plate in the company's defense.
COMPARING RAM NUMBERS
In a bilibili interview with content creator and machine learning engineer Lin YilYi, Apple's vice president of worldwide product marketing Bob Borchers says that you can't compare 8GB of unified memory on on the latest MacBook Pro to other systems.
"Actually, 8GB on an M3 MacBook Pro is probably analogous to 16GB on other systems," Borcher says during the interview. "We just happen to be able to use it much more efficiently."
Borchers adds that 8GB is just as good thanks to Apple's more efficient use of memory, memory compression, and the unified memory design itself with the M3 chips. Even without clear benchmark tests, Apple is likely right here.
Borchers doesn't going into detail about how Macs with Apple silicon can handle greater workloads with less RAM, but we already know how. Using a feature called memory swap, Macs with Apple silicon and unified memory can borrow more memory from the SSD.
In his review of the M1 MacBook Air, Inverse Deputy Gear Editor Ray Wong found that its 8GB of unified memory was handling more than the 16GB of RAM in an Intel MacBook Pro. That's the magic of memory swap. The only catch is you need to have a good amount of free storage to compensate.
RIGHT FOR THE WRONG REASONS
It's rare for an Apple exec to directly address a complaint, but Borchers is still technically correct when comparing it to other systems. Also, it's true that 8GB on a M3 MacBook Pro will be more than enough for most users' daily demands like web browsing or Zoom meetings.
On the other hand, we understand the frustration. Most comparable laptops start at 16GB minimum these days, and 8GB doesn't really feel like it earns the "pro" label. Consider the demographic that the MacBook Pro is supposed to appeal to, like multimedia artists, programmers, and even those working on heavy AI tasks like YilYi. For any of those users that require a lot more than just 8GB of RAM, unified or not, you might be forced to pony up thanks to Apple's expensive unified memory upgrades.