Here's a First Look at Apple's Stealthy Space Black 16-Inch MacBook Pro With M3 Max Chip
Just how black is the new Space Black MacBook Pro? We have some answers.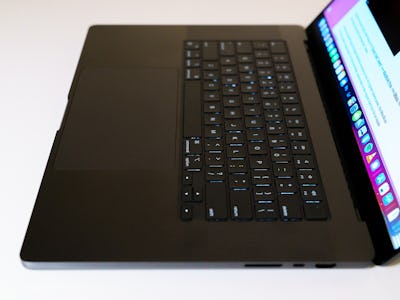 Photograph by Raymond Wong
As I type these words, I have spent less than 72 hours with Apple's new 16-inch MacBook Pro equipped with its top-shelf M3 Max chip. (Yes, it's in "Space Black".) Not long enough for a thorough review, but I do have some early thoughts on the laptop.
How black is the "Space Black" color and does it live up to the black polycarbonate MacBook that was discontinued over a decade ago? Does the black-anodized aluminum really reduce fingerprints? How much faster is the M3 Max chip compared to the M2 Max chip? What's it like to play console-quality games? Read on for my first impressions.
How Black is the "Space Black" M3 Max MacBook Pro?
As Inverse senior editor James Pero noted, it's been some 15 years since Apple last sold a MacBook in black. Apple has been shipping a "Midnight" MacBook Air with M2 chip since last year, but the color is more of a very dark blue that sometimes looks black, not true black.
Space Black is exclusive to the 14 and 16-inch MacBook Pros with the M3 Pro and M3 Max chips. The entry-level 14-inch MacBook Pro with regular M3 chip, starting at $1,599, only comes in silver or "Space Gray." That means you'll need to pay at least $1,999 to get a 14-incher in Space Black or $2,499 for a 16-inch MacBook Pro.
Now, on to Space Black. As you can see in the above and below photos, it's definitely the darkest MacBook Pro that Apple has ever made. Space Black is many shades darker than Space Gray. However, the black-anodized aluminum is not as black as the keyboard or the bezels around the Liquid Retina XDR display or the black polycarbonate MacBook Pro from yesteryear.
Microsoft's Surface Laptops and Surface Pros come in darker blacks, and so do Razer's Blade laptops. The Space Black MacBook Pro is a looker, for sure, but like all black-anodized aluminum, it does come with a few downsides: chipping and fingerprints.
It's against my loan agreement to do any real durability tests that might damage the product, but accidents do happen from time to time. I'm not sure exactly how it happened, but I accidentally dropped the side of my iPhone 15 Pro on the edge, right near the trackpad, and there's now the tiniest silver nick. It's not a huge deal, but if the idea of seeing silver scratch marks accumulate over time irks you out, you should probably consider a different color.
On the topic of fingerprints… well, they're usually more noticeable on black metal than silver or even dark gray. Apple says Space Black MacBook Pros feature a "breakthrough chemistry that forms an anodization seal to greatly reduce fingerprints." I would say that's accurate. While you can still see fingerprints under certain lighting and from some angles, they're a lot less noticeable compared to the Midnight-colored MacBook Airs or other black Windows laptops. Apple never says fingerprints are not visible on the Space Black MacBook Pros, only that they're "greatly" reduced, which I can confirm is true. Obviously, if you eat and type, any grease or natural oils will be more visible. But keep your hands clean and the fingerprints seem to disappear quicker with contact.
How Fast Is the M3 Max Chip?
Let's let some benchmarks do the talking. My loaner review unit is the M3 Max chip with a 16-core CPU (split between 12 performance cores and four efficiency cores), 40-core GPU, and 48GB of unified memory.
In Geekbench 6, the CPU scored 3813 for single-core and 23122 for multi-core. In comparison, a MacBook Pro with an M2 Max chip (12 CPU cores, split between eight performance cores and four efficiency cores; 38-core GPU) scored 2698 for single-core and 14847 for multi-core. Quick back-of-the-napkin math shows the CPU in the M3 Max chip is about 18 percent faster for single-core tasks and up to 44 percent faster for multi-core tasks. And for those keeping track, that makes the M3 chip about as powerful as the M2 Ultra chip in the Mac Studio and Mac Pro.
If you're using apps that take advantage of multiple cores for workflows — think Photoshop or 3D rendering or code compiling — the extra boost in performance is really going to impress.
Can The M3 Max MacBook Pro Play Games?
It feels so strange to say this because gaming and the Mac have been like water and oil (they don't mix), but with the switch to Apple silicon, Apple has been pushing hard on gaming on the Mac.
Game Porting Tool makes it easier for developers to bring their games to the Mac, while macOS features like Game Mode make available games more playable with priority given to performance and reducing latency. At the same time, Apple is slowly but surely securing AAA games.
I was given access to try out Lies of P and Baldur's Gate 3, and while I didn't do any technical breakdowns of the specific framerates or thermals at any given time, I can say the two games looked fantastic on the MacBook Pro's high-res Liquid Retina display. They were also just as responsive as a console or PC using a wireless DualSense controller. Shading and graphics effects are, of course, only part of the equation. The MacBook Pro's six-speaker system also makes gaming on the Mac an atmospheric delight.
I'll have to play some more games to really get a sense of what games with ray tracing look like on the M3 Max MacBook Pro. But right now, I'm starting to see the commitment Apple is making to gaming on the Mac. Much like the Apple silicon transition, I see gaming on the Mac as a multi-year journey. It's still going to take some time, especially to woo developers to release their AAA games to the Mac on the same day as PC and console, but I think Apple could do it. (It certainly has the cold hard cash to win over developers.)