Reviews
Microsoft Surface Laptop 3 review: Basically perfect, perfectly basic
You won't find any gimmicks in this laptop.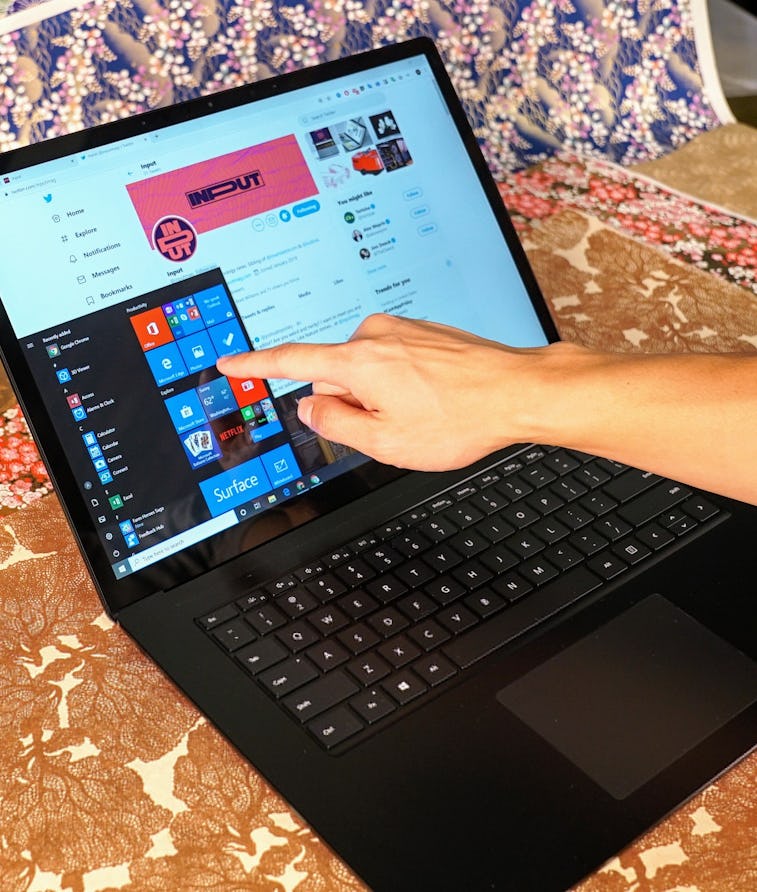 Ryan Houlihan / Input
Last Year's Microsoft's Surface Laptop 2 is a pretty amazing notebook. It has it all: quad-core performance, a great 13.5-inch touchscreen, and a keyboard that doesn't suck.
So Microsoft took the metal clamshell's winning formula and enlarged it with a 15-inch display and custom AMD "Ryzen Surface Edition" CPU and GPU that it claims is the fastest laptop chip in its class.
I've been using the 15-inch Surface Laptop 3, which starts at $1,199, for about a week and it is a beast for a device that weighs 3.4 pounds. Every feature checks out, except one: the ports.
The Surface Laptop 3 has the same ports as the 13.5-inch version: one USB-C, one USB-A, a headphone jack, and a Surface Connect port. It's acceptable for a smaller laptop to have fewer ports, but a 15-inch laptop with only two USBs is 100% wrong.
So much laptop
Unmistakably Surface-y — Aside from the larger screen and more powerful performance, the bigger Surface Laptop 3 is identical to its 13-inch sibling, though the 15-inch only comes in aluminum. There's no subtly soft alacantra keyboard option. But I'm fine with metal — it's easier to wipe down after snacking over the keys anyway.
There's little to dislike about the 15-inch Surface Laptop 3. It's lighter and thinner than a 15-inch MacBook Pro, and it's sleek in matte black.
The 2,496 x 1,664 resolution "PixelSense" display is tack sharp and the 10-finger touchscreen is super responsive. The 720p webcam supports Windows Hello face sign-in and makes me wish my MacBook Pro had Face ID. There's no fingerprint sensor like there is on MacBooks, though.
Excellent inputs — The keyboard and trackpad are both excellent. Compared to my MacBook Pro keyboard, the keys on the Surface Laptop 3 are squishier, have more travel, and are quieter. I can't ask for a better laptop keyboard. Similarly, the trackpad is larger than on Surface Laptop 2 and just as smooth; there's no janky tracking like on other Windows laptops.
No Intel inside, but it's fine — And of course, the Surface Laptop 3 comes with plenty of specs: up to 16GB of RAM, up to 1TB of SSD storage, and either an AMD Ryzen 5 3580U processor with Radeon Vega 9 graphics or the Ryzen 7 3780U processor with Radeon RX Vega 11 graphics.
The Surface Laptop 3 breezes through common tasks like browsing the web (even with two dozen open Chrome tabs), watching 4K YouTube videos, and editing RAW photos in Adobe Lightroom.
Compared to my MacBook Pro keyboard, the keys on the Surface Laptop 3 are squishier, have more travel, and are quieter.
But where you'll really see big performance leaps is for graphics-heavy workloads like editing video and gaming. Yes, the 15-inch Surface Laptop can play popular games like Fortnite at decent settings — mostly "high" graphics at up to 60 fps — without choking up.
The Surface Laptop 3 doesn't have ray-tracing graphics like a Razer Blade or an Acer Predator so don't expect any fancy-ass real-time texture reflections. But for Fortnite, PUBG, Rocket League, or any game that doesn't need the best graphics or highest frame rates, the 15-inch Surface Laptop 3 can hold its own.
Solid battery life — Battery life surprised me the most. Microsoft advertises up to 11.5 hours on a single charge. While you shouldn't expect to get anywhere close to 11.5 hours unless you're only streaming video or browsing the web, I'm happy to say I only needed to plug the Surface Laptop 3 in for a charge after an 8-hour workday. That included having Chrome open with about 30 tabs, lots of Slack, an hour of Spotify streaming, and some light photo processing in Photoshop and Lightroom.
Playing games like Fortnite or apps that rely on the graphics chip drains the battery faster (and kicks up the fan to an audible level). I got about 3.5-5 hours in Fortnite, but your mileage is going to vary per game.
The most underrated feature is easily quick charging: 0-80% in about an hour with the included Surface Connect power adapter. That's as fast as charging up the iPhone 11 Pro with a fast charger.
Two ports short
The most disappointing thing about the 15-inch Surface Laptop 3 is its puny port selection. As I noted earlier, you get one USB-C and one USB-A. Two USB ports on a 15-incher is insulting on a larger machine. It's also maddening that neither is Thunderbolt 3.
In a perfect world, every 15-inch laptop would have at least four USB ports (preferably two USB-C and two USB-A) and an SD card slot. But somehow Microsoft managed to drop the ball on the one thing Apple gets right on its own laptops.
A dongle makes this a non-issue, but nobody should have to carry one around for a 15-inch laptop. I tolerate dongles on 13-inch laptops because I'd much rather have a larger battery than ports, but on a 15-inch machine where there's more volume, I'm not seeing any valid reasons.
Does the two-port situation ruin the Surface Laptop 3? No. But it means Microsoft's largest notebook is just two ports shy of being the perfect 15-inch laptop.