Volvo's New EV is a Movie Theater, Living Room, and the Perfect Minivan for SUV Lovers
This is as cool as a minivan gets.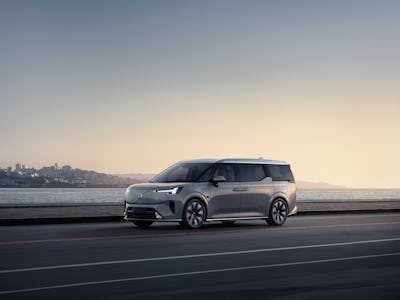 Volvo
There doesn't seem to be much love for minivans in the world of EVs, but Volvo is ready to change that.
Volvo just revealed its new EV that it's calling an all-electric multi-purpose vehicle, but the EM90 falls right into the minivan category for us. Either way, it's the first time that Volvo is breaking into this segment, and on top of that, it's with an all-electric model.
NOT JUST A MINIVAN
Whether or not the U.S. needs the EM90 is debatable. It's hard to argue with the design though, since Volvo made it a modular living room on wheels. Volvo says you can set up the minivan as a people-mover or a company car where you can take business meetings inside. You can even use it as a sleeping space during car camping trips and top off all your devices with bi-directional charging.
Volvo took the living room design to the next level by adding noise cancellation tech for a quieter ride, a built-in air purifier for a cleaner cabin atmosphere, and massage chairs. There's a 15.6-inch infotainment system for the driver, but there's another display of the same size that mounts onto the roof. Depending on your needs, you can make the EM90's interiors into a movie theater, living room, workspace, or dining room.
Volvo only teased a few specs for its EM90 so far, including that it's expected to get around 458 miles on a single charge. Keep in mind that this early estimate is based on China's CLTC testing, so we're bound to get more realistic numbers if the EPA gets its hands on the minivan. Once it's out of charge, it'll take 30 minutes to get from 10 to 80 percent on the EM90. Don't expect to go very fast on this electric minivan, since the 0 to 62 mph numbers clock in at 8.3 seconds.
COMING TO CHINA FIRST
If the EM90 has caught your attention, there's a good chance Volvo may leave you disappointed. The Swedish automaker is releasing the all-electric minivan to China first, having already opened preorders for those customers with a starting price tag of 818,000 yuan, or around $114,000.
It's not surprising considering the EM90 is based on Zeekr's 009, with both Volvo and Zeekr being owned by the Chinese automotive company Geely. Add to that a growing trend of luxury MPVs in China, it's likely a safer route for Volvo to test the waters. We do hope that Volvo decides to bring the EM90 overseas to address a serious lack of all-electric minivans in the U.S. even if the price tag is a tough sell.