Cybertruck Buyers Might Finally Get Their EV Pickups After Four Years
It's been a long road of delays, but Tesla has finally set a delivery date in November to start shipping the polygonal pickup.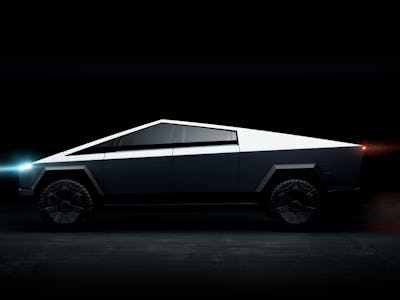 Tesla
It's that time again: we have the latest delivery date for Tesla's Cybertruck, and this time it could be for real. Tesla just announced that deliveries will begin November 30 for the long-awaited electric pickup truck after years of delays.
Even with all the missed deadlines, Tesla has been recently gaining momentum on an actual release. In July, the EV maker rolled the first Cybertruck off its production line and there was some hope that we would see the pickup on the road by the end of the year.
Although, even now with a firm release date for the end of November, we're still not completely sold. It is a solid date instead of the ambiguous release windows that Tesla previously mentioned for the Cybertruck, though.
AIMING FOR 125,000 PER YEAR
Along with the November 30 release, Tesla's CEO, Elon Musk, shared some further details beyond the first deliveries. During Tesla's presentation of its third quarter financial results, we learned that Tesla is planning for a production capacity of 125,000 Cybertrucks at its Gigafactory Texas. It'll be built alongside the Model Y at the Texas plant, which is due for a major model refresh like we saw with the Model 3.
However, Musk told shareholders and reservation holders to "temper their expectations." He explained that it would take a while to fully ramp up to that 125,000 figure, meaning we'll likely only see a limited number of Cybertrucks trickle out by the end of this year. Eventually, Musk says that Tesla will hit 250,000 Cybertrucks delivered a year, adding that the company won't hit that level of volume until around 2025.
PRODUCTION VERSUS PROTOTYPE
We shouldn't just be tempering our expectations when it comes to Cybertruck deliveries. We should also be more realistic about what a production model version looks like. There's been a lot of overpromising and some likely underdelivering. Remember when the Cybertruck's "Armor Glass" windows got smashed in a live demo in 2019? That prototype's design is a far call from what we're seeing with recent Cybertruck sightings that feature a snub-nosed hood. We'll just have to wait until after November to see what the final product really looks like.
This article was originally published on