Sonos Joins the Spatial Audio Trend With Era 300 Smart Speaker
Accompanying the Sonos Era 300 is the Era 100, which will replace the Sonos One and One SL.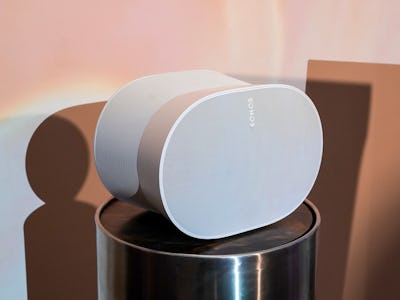 Photography by Raymond Wong
The future of music is spatial audio.
That's what Sonos is declaring with its new Era 300 smart speaker. Spatial audio is the beginning of a new era for music, get it? With a distinct angled design that allows for directional sound, including a tweeter that fires upward, Bluetooth support, a new auto Trueplay tuning feature that (finally) allows Android users to calibrate the speaker to the room, the $449 smart speaker cranks everything to eleven.
Announced alongside the Era 300 is the Era 100 smart speaker, which will replace the Sonos One and One SL. The $249 Era 100 does not support spatial audio, but it is redesigned inside and out with clearer stereo sound. It also supports Bluetooth and the new auto Trueplay, two features that the One and One SL aren't capable of.
By the end of March 2023, Sonos' speaker family will comprise, from bottom to top, the Era 100, Era 300, and Five (sticking around without any refresh).
Immersive Sound
Every company that makes a speaker, whether with spatial audio or stereo, loves to throw around "immersive audio" as a selling point. Everyone's speaker is immersive — the most immersive sound you've ever heard in said container.
Naturally, Sonos is claiming immersive sound — more immersive sound on the Era 300 and Era 100 than any of its previous speakers. On the Era 300, that immersion comes primarily through spatial audio — sound that's coming from the front, sides, and top. It's not just adding sound that's reflected upward and then back down into your ears; spatial audio has presence because it's a virtualized depth. It's kind of goofy to say you feel the sound, but if you've listened to spatial audio on other speakers like the HomePod or even on wireless earbuds like AirPods Pro, you know how much more real audio sounds.
In terms of specs, the Era 300 is packing six class-D digital amplifiers positioned in the center and sides. There are "high performance woofers" (one on each side) for thumpin' bass, four tweeters (one front-facing, two side-facing, and one inside of a "directional horn" firing up), and custom waveguides everywhere to scatter sound in all directions. Two Era 300 speakers can be paired with an Arc soundbar or Beam (Gen 2) for a 7.1.4 Dolby Atmos home theater experience. Throw in a Sonos Sub and you're packing serious audio boom. There's a USB-C line-in for external hardware like a turntable, but you'll need Sonos' Line-In Adapter sold separately and built-in voice control.
Dana Krieger, Sonos VP of Design, Hardware, told me they tested endless designs for the Era 300 and ultimately settled for one where the drivers and woofers are angled at 20 degrees for the most "optimal sound experience." There's also a "trench" at the top to guide users (and guests) to swipe to control the volume.
I was treated to a listening session with other media folks in an ideal room roughly 10 x 10 feet. In this "box" the Era 300 was presented to show off its acoustic prowess in the best conditions. Dolby Atmos tracks played via Amazon Music Unlimited on an iPad and sent to Era 300s over Wi-Fi sounded particularly immersive; the low ceiling was well equipped to reflect sound down. Note: spatial audio doesn't work over Bluetooth, only Wi-Fi. At 80 percent volume, the Era 300 in front of us produced loud, clear sound. Tracks with vocals were especially crisp with no perceptible distortion. Any audio mixed for spatial audio or in Dolby Atmos on Amazon Music Unlimited or Apple Music will work at launch — and sound three-dimensional.
As for video content, sample movie trailers piped through an Arc and two Era 300 units placed behind us as rears created a bubble of surround sound. It sounded great, but of course it did, Sonos cherry-picked the tracks and then played them in an ideal room (with glass walls on one side, no less). I'm not doubting that the Era 300 sounds amazing — Sonos speakers are terrific — but in a larger, more open-air space, the spatial audio's immersion could be less immersive. I'm excited to see how this is with the Era 300 in my own living room. I'm even more excited to see how spatial audio on the Era 300 compares to the HomePod and Amazon's Echo Studio, two smart speakers that have had immersive sound for years.
As for the Era 100, it sounded good, too — for stereo. It features two angled tweeters and a woofer that Sonos says is 25 percent larger than the one in the One speaker. The Era 100 also has a 47 percent faster processor and a new "co-neural processor" that should make connections and streaming faster and more reliable. I heard the speaker in the same acoustic box as the Era 100 and was told to pay attention to the stronger and clearer bass, and the wider separation. Without a One or One SL on hand to compare it to, I can't say it made as strong of an impression on me as the Era 300's spatial audio did. I've got a One speaker at home so I look forward to doing some listening comparisons with the Era 100.
The Era 100 has a new rounder shape over the squircle tube of the One and One SL. Like the Era 300, there's a new trench on top for controlling volume with swipes and all of the new stuff like Bluetooth, Trueplay for iOS and Android (no waving required, the speaker just automatically calibrates to the room), USB-C line-in, and voice control.
Sustainable Plastic
I'm a big fan of when products are designed from the start to be eco-friendly. Both the Era 300 and Era 100 are made from post-consumer recycled (PCR) plastic; their packaging uses 100 percent sustainably sourced paper.
But it's not just using recycled plastic and paper. The speakers are also engineered for repairability. Sonos says their designs use less glue and more screws for easy servicing. Does that mean Sonos wants you to repair your own device and void your warranty? Probably not, but less adhesive is a net win for what is hopefully easier repairs, and potentially faster servicing turnarounds.
Era 300 and Era 100 Release Date
Both the Era 300 and Era 100 are available for preorder starting today and come out on March 28 in the following countries according to Sonos:
United States, Mexico, Colombia, United Kingdom, Ireland, Germany, Austria, Switzerland, Poland, France, Italy, Spain, Netherlands, Belgium, Luxembourg, Sweden, Denmark, Norway, Finland, Portugal, Greece, Cyprus, Australia, New Zealand, and Japan.
The following countries will see launches shortly after:
Eastern Europe, Morocco, Egypt, South Africa, Israel, United Arab Emirates, Singapore, Hong Kong, and India.
Sonos originally said the Era 300 would launch in China on March 28, too, but not the Era 100. A Sonos spokesperson clarified when I asked: "Era 100 and Era 300 will not be launched at this moment in China but will come soon."