This Company Is Reinventing Game Demos by Streaming Them
No downloads. No waiting in long lines at a convention. No germs.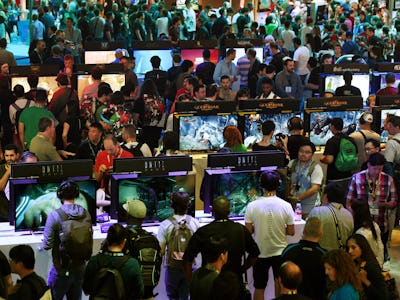 MARK RALSTON/AFP/Getty Images
Picture this: It's GDC (oh, that's this week!), E3, Gamescom, or any big video game convention. A publisher has just announced a new game you're dying to try; you spend a fortune to attend in-person and then wait hours to play a five-minute demo; you walk away hangry afterwards.
The concept of attending a game convention to queue up and play a short game demo is outdated — it's a relic of the pre-internet era. That's why Shadow wants to modernize the video game demo experience with its cloud PC service.
Virtual Booth lets game publishers stream a fully playable, high-quality game demo into a web browser on any device, and offers a better way to distribute a game demo in a post-Covid-19 world.
Streaming Game Demos Is Better
You're probably thinking two things right now: Hey, Virtual Booth sounds like Parsec and why not just download a game demo from the comfort of your own home?
Indeed, Virtual Booth shares similarities with Parsec, but the experience looks way simpler for the average joe who just wants to start button mashing on an unreleased game.
"With our solutions, customers don't have to provide the servers and virtual machines, nor do they have to deploy the game demo on each VM," Sébastien Kaiser, Shadow's Chief Strategy & Dev Officer tells Inverse. "Thanks to simple settings, everything can be handled with extreme ease of use from server set-up to deployment of the demo, to best fit our customer's needs."
And as for downloading a game demo to your console or PC? Have you seen the size of today's game demos? They can be massive; some game demos are north of 10GB. Virtual Booth streams a game demo so there's no need to download anything; no need to frantically find something to delete off your hard drive to make room for a temporary demo. As a guy who is constantly managing my PS5's internal storage to clear space for new demos, I support streaming game demos.
Not to mention, I welcome the idea of not having to line up shoulder-to-shoulder with a horde of sweaty nerds in a poorly ventilated convention hall; it's never a guarantee that queuing up means actually getting play time. I'm all for traveling to other cities and countries to partake in a common hobby with like-minded fanatics, but sometimes it's not possible — time doesn't permit or the trip is too expensive.
Going to a game publisher's website, clicking on a button, then joining a virtual queue (Shadow touts up to 100,000 "demo pods" can be run at once) and playing with my own germ-free controller or mouse and keyboard seems like a no-brainer in 2023. In many ways, this simplicity is what Stadia promised, but failed to deliver.
"In Shadow, you can play through any device, your Android or PC," Kaiser says. "We're designing it today for the lowest latency and best picture quality. It's not just another stream. It's the best one."
There's a social aspect to Virtual Booth too. Publishers could fish for followers on various social networks before or after a game demo, allow public or private feedback (to developers), and even allow players to "stream on Twitch while enjoying a pixel-perfect experience."
Coming in Fall 2023
Virtual Booth is launching this fall in Q4, Kaiser says. Shadow will have demos of the experience at GDC this week (by appointment).
I've yet to see how well Virtual Booth works in person, but I'm told it will be as responsive as streaming a PC through Shadow's existing cloud PC service. Kaiser says its eight years of experience gives it an advantage, reliability, and trust that Stadia never had. "If you want to stream anything from anywhere, use Shadow. This is your own environment. You have 100 percent GPU dedicated to you."
When I ask whether or not Stadia's shutdown has potentially impacted Shadow's business or put a damper on streaming games in general, Kaiser told me that while it's "not good news" that Stadia died, "we see some customers come from Stadia."
"Aimed towards gamers, [Shadow cloud PC streaming] is the most difficult thing to do. The wall before [Nvidia] GeForce Now and owning your games is not our fight. Our fight is to make the best streaming device and the cheapest as well."
Shadow doesn't have any game partnerships to announce today, but considering how Covid-19 has upended entire industries and the ways they operate, Virtual Booth's arrival this fall might be exactly the right change at the right time to reboot the game publisher/developer-to-player relationship.