E3 2023 Start and End Dates, Publishers, and Schedule Predictions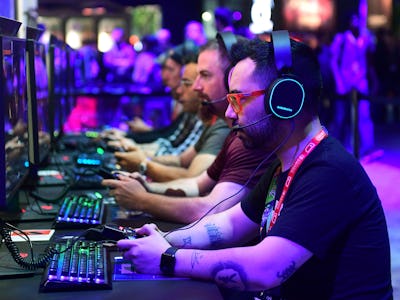 FREDERIC J. BROWN/AFP/Getty Images
This summer will mark the return of E3 in person, but it will be a bit different than you remember. E3 2023 is being organized by ReedPop, the same company responsible for the PAX gaming conventions and New York Comic Con, and it aims to change things up this year. This will mark the first in-person version of E3 since 2019. Here's what you need to know about E3's return this year.
E3 2023 Start and End Dates
E3 2023 runs from June 13 to June 16, 2023, and will take place at the LA Convention Center in Los Angeles, California.
During past E3 events, publishers would hold showcases with video game announcements prior to the convention itself. It's unclear if that will occur in 2023, and if so, which publishers will attend. ReedPop and attending publishers will no doubt make announcements as we get closer to the event.
E3 will open its doors as part of its Business Days from June 13 to June 15, which is catered to industry professionals. During Business Days, the convention center will have exclusive areas open for industry members before being made available to the general public. This will allow the media to go hands-on with demos without the massive crowd.
Finally, from June 15 to June 16, the E3 2023 doors will open to the general public, but will be separate from the industry-only area, hopefully making it easier to navigate for all in attendance.
E3 2023 Publishers
One thing we do know for sure is that Sony, Nintendo, and Microsoft will be skipping E3 2023. This comes by way of a January 2023 IGN report, which states that "knowledgeable" sources from all three publishers have told the publication they won't attend this year.
Sony, Microsoft, and Nintendo have all had major presences at E3 over the years, but the publishers slowly began distancing themselves from the event. Since 2019, Sony has not attended E3, while Microsoft participated in an indirect way, offering playable demos at the Microsoft Theater rather than inside the LA Convention Center itself. Nintendo's presence has also dwindled, as it used to host live keynotes before shifting to its Direct-style presentations.
E3 2023 Schedule Predictions
Since we don't know which publishers will attend E3 2023, it's unclear what the full schedule will look like just yet. Although Nintendo and Microsoft won't attend the show, they have established a pattern of hosting showcases during the same time of year.
We've seen the likes of Summer Game Fest (which also takes place in early June) prove that summertime is still hot for gaming reveals. It's likely publishers will still make announcements even if they're not directly involved with E3.
By June 2023, The Legend of Zelda: Tears of the Kingdom will be out, so Nintendo will need to promote its games for the fall and beyond. This would be in line with what publisher Electronic Arts has done in the past with its EA Play Live, which also happens in LA during E3 week, despite being technically separate from E3 itself.
Looking back at the recent past, we expect Square Enix, Ubisoft, Bandai Namco, Capcom, and others will make an appearance — with varying degrees of booth presence. It's also possible IGN will host an event this year, along with the presence of the PC Gaming Show and Future Games Show. These showcases are hosted by online publications and feature game announcements that may or may not be part of the E3 convention.
E3 2023 kicks off on June 13, 2023.