Razer's New Gaming Earbuds Give Your PlayStation or Switch Ultra-Fast Audio
A 2.4GHz dongle gives the Hammerhead Pro HyperSpeed a competitive edge over regular Bluetooth wireless earbuds.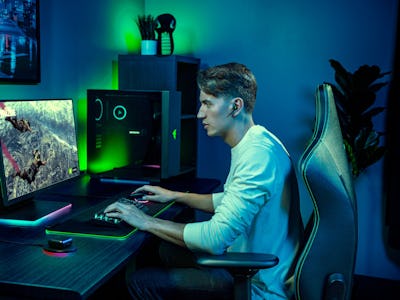 Just because you're not a pro gamer doesn't mean you don't need pro gear. And by "pro," I mean something that's as fast as it is functional — that goes for your mouse, keyboard, PC, and yes, your audio, too.
On the latter front, Razer has its own solution that combines wireless earbuds and a low-latency dongle that reduces dreaded audio lag. The Hammerhead Pro HyperSpeed wireless earbuds — as Razer has dubbed them — one-up regular Bluetooth using a dongle that broadcasts a 2.4GHz signal. According to Razer, its solution reduces the typical 60ms lag of Bluetooth wireless earbuds to under 40ms.
The Hammerhead Pro HyperSpeed's dongle (which connects with USB-C) is of course compatible with PCs, but it also works with game consoles, including PlayStation, Nintendo's Switch, and the Steam Deck.
And if you don't feel like using the Hammerhead Pro Hypespeed with a dongle, the buds also connect via Bluetooth 5.3, which should make them a more-than-capable option for streaming or listening to music — cases where super-low latency isn't a huge deal.
Quality Audio
It's not just all about the latency, either. Razer's new gaming buds are also THX-certified and come with active noise cancellation that can be adjusted via a companion app or automatically using the buds' microphones. Naturally, since this is Razer, we're talking about, the buds have some RGB lighting that can be customized into different colors and patterns.
With all the bells and whistles like ANC and RGB lighting, battery life will vary, obviously. Razer says the buds will get about 6.5 hours of life outside the case listening via Bluetooth with ANC and RGB lighting switched off, and if you're using ANC and RGB lighting that battery life drops to just 3.5 hours. If you're using the buds in dongle mode, Razer says you'll get three or four hours total. Admittedly not the best battery life, but it's all in the name of competitive gaming.
The charging case for the Hammerhead Pro HyperSpeed has a decent amount of juice at 24 hours, and luckily, it can be charged wirelessly.
Wireless earbuds centered on keeping latency low obviously aren't for everyone, but for someone that wants the quickest possible transfer speeds but doesn't fancy wired headphones for whatever reason, they should be a compelling option. I mean, if you already dropped money on a high-DPI mouse...
Price and release date
For all the features of the Hammerhead Pro HyperSpeed, they still clock in at a fairly reasonable price of $200. And if you're in need of some ultra low-latency buds (and you don't mind dongles), you can buy them right now.