Our 7 Favorite Mechanical Keyboards for PC Gaming
Seven categories. One mechanical keyboard each.
by Henri Robbins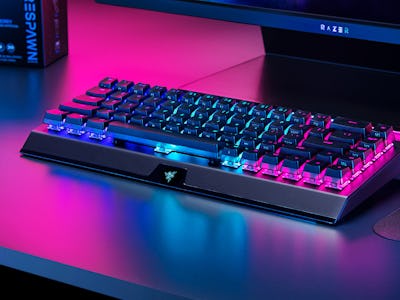 Razer
We may receive a portion of sales if you purchase a product through a link in this article.
A good gaming keyboard won't instantly make you an esports legend, but just like any good tool or instrument, it can make a difference if you're any bit competitive.
Gamers can be very particular about their gear. As an enthusiast who's reviewed my fair share of keyboards made for gaming I've got my own checklist for what I think every good board for gaming should have. MX-style switch stems, a listed response time, some level of programmability, and more than one switch option, to name a few.
That criteria ensures reliability, accessibility, and customizability across all of the options, so if you decide that the included cable, keycaps, or even the default layout isn't for you, you can easily swap for something more aligned with your taste.
As a gamer who plays different games from me, you're bound to disagree with some of my choices. There are many others on the internet, but this is my best gaming keyboard list.
Best Overall
The Wooting 60HE is a gaming keyboard that's well-loved within the custom keyboard community. It has fantastic build quality, unique looks, pre-lubed switches and stabilizers, and a standardized tray-mount assembly shared with multiple other 60 percent keyboards. Because of this, you can pretty much customize every part of this keyboard while still having top-of-the-line analog switches and a 1,000Hz polling rate.
Using Gateron's analog Hall-effect "Lekker" linear switches, the actuation point of each switch can be adjusted by up to 0.1 millimeters, and the "rapid trigger" feature lets the switches register rapid keypresses even if the key isn't fully released between keypresses.
The Wooting 60HE may be a bit overkill for some, but it's certainly one of the best ways to get an edge on the competition if you're willing to fine-tune your settings (and willing to wait for a pre-order, too).
Best Wireless
With 1,000Hz wireless connectivity and a portable 65 percent layout, the Razer BlackWidow V3 Mini Hyperspeed is a solid option it you want your gaming setup on the go, or you're sick of a cable cluttering your desk. While it can benefit from a bit of stabilizer tuning (which is fairly easy thanks to their removable stems), it's a great option for general gaming with both linear and clicky switch options.
For programming, Razer's Synapse software works well for both complex macros and remapping. While it's not perfect (the app can be finicky at times, and it does require downloading a whole new software to your system), its strong macro capabilities and multiple profiles are appreciated if you're really into creating custom layouts for different games.
Most Customizable
Compatible with QMK and VIA custom keymapping software, which are standard for programmable keyboards, the Keychron Q65's layout can be customized to your heart's content. Using these programming softwares can be a bit of a learning curve at first, but they're incredibly powerful tools for creating the ideal control configuration. The rotary knob up top is especially handy for quickly changing any in-game audio source you've mapped it to.
Along with this, the Q65 (and many of Keychron's other QMK-compatible boards) has 1,000Hz polling and hot-swap sockets, so you can easily replace one or all of the switches depending on the game. Is swapping switches annoying? Yeah, it's certainly time-consuming, but that's also part of the fun.
Best Budget
It's hard to recommend anything other than the Razer Huntsman Mini for an effective, budget-friendly option that isn't a low-profile board. Retailing at $130 but regularly dipping below $100 on sale, this keyboard has everything you need (optical switches, 1,000Hz polling, and programmability) without any of the extra bells and whistles that cost more (rotary knobs, additional keys, or wireless connectivity). Ultimately, it clocks in at half the price of the full-size Huntsman Analog V2, and two-thirds the price of the regular Huntsman V2, while still matching most of their specs.
The Huntsman Mini also has full RGB support, and a smaller 60 percent layout that makes it more portable and takes up less desk space than a TKL or full-size keyboard. If you're looking for a plain and simple gaming keyboard that will get things done, this is the one.
Best Full-Size
The Apex Pro is durable, powerful, and reliable. It has all the bells and whistles including USB passthrough, a programmable screen, and optical switches. It's even got a number pad in case you don't want to give up your classic 100 percent layout.
The two real issues with this board are that it doesn't have a detachable USB cable (the TKL Wireless does, but sacrifices USB passthrough), and it's only available with linear switches. The Apex Pro's OptiPoint switches more than make up for this, though. Their actuation point is entirely customizable, and you can program two different responses per key: one on the initial press, and another once the key has been pressed all the way down, which is useful for programming different movement speeds within a single keypress, or for having multiple in-game actions mapped to the same keypress.
I also like that the programmable knob and miniature screen can provide system, device, and game-specific information in real-time.
Best Premium
This is about as good as a gaming keyboard with traditional (i.e. non-analog and non-optical) switches can get. The Asus ROG Azoth has a gasket-mount system, sound-dampening foam, Bluetooth connectivity, hot-swap sockets, an adjustable knob, and a programmable OLED display.
I think it looks fantastic, and unless you regularly use the number pad, you won't be missing any keys. In case the switches or stabilizers aren't perfect out of the box, the Azoth also includes a kit with lubricant, a brush, and tools to disassemble the keyboard and open the switches — all components that you'd normally need to order separately.
Its gasket-mount system makes both typing and gaming sound and feel great, and the OLED display can have readouts of system information to keep tabs on system performance and multimedia controls without having to sacrifice monitor real estate.
Best Low-Profile
All of the keyboards I listed above are standard "tall" profiles. But if, for some reason, you want keys that resemble a laptop keyboard, a low-profile model like the Keychron K3 Pro is the way to go.
Don't let the K3 Pro's thin profile fool you. It packs a lot including full QMK and VIA programmability for the Gateron low-profile switches. The RGB Hot-Swap model even allows for switching between different Gateron-made low-profile switches without any soldering (although currently there's only one option for each type of switch — the usual red, brown, and blue).
Low profile switches are a great option in terms of gaming performance, too. Their shorter travel time and more compact size means repeated keypresses register sooner, and they can potentially reduce strain on your wrists and fingers during long gaming sessions.