The Next Big Thing for EVs Is Matching Phones, Apparently
EV makers are preparing to battle on Apple and Samsung's turf.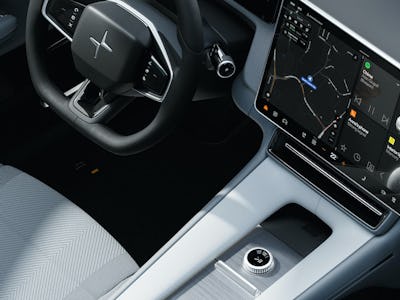 Polestar
Cars are pretty high-tech nowadays, and EVs in particular are pushing the boundaries even further. In fact, some are even blurring the lines between cars and computers altogether.
Take Polestar, for example, which recently announced that it would break the barrier between automaker and tech giant by making its very own smartphone in partnership with Meizu, a Chinese company.
On one hand, the move is a headscratcher, and on the other, it's a sign that EVs are about to get a lot more sophisticated.
The Polestar Phone
While we don't know much about the physical hardware of the phone, Thomas Ingenlath, Polestar's CEO, gave CNBC some insight into what to expect upon the device's release in December.
For one, Ingenlath described the phone as "premium" which is a departure from Meizu's typical mid-range devices. Given Polestar's willingness to dabble in other premium crossovers, including a special e-bike with the high-end mobility company, Cake, this doesn't come as a particular shock.
Naturally, Ingenlath also alluded to some potential integration between the device and Polestar's cars. Applications here are obvious: messaging, music, navigation, and remote start, to name a few. The phone will eventually be launched alongside the Polestar 4, an electric SUV that will debut in China.
A Polestar smartphone makes sense when you factor in the Polestar 4's launch location. In China, as opposed to the U.S., there's a much more diverse array of mobile operating systems and phone makers. That means Polestar and Meizu can develop their own OS and would theoretically have an easier time integrating a phone with its own in-car software.
What's most interesting, at least to me, isn't necessarily the phone itself, it's Polestar's decision to dip its toes into the smartphone game to begin with. As cars have become more and more sophisticated, automakers — especially upstarts in the world of EVs — have begun to treat them as conduits for cutting-edge tech.
In Tesla's case, the best example is its Full Self-Driving Beta and Autopilot software for semi-autonomous driving; for Mercedes-Benz, it's hardware like the Superscreen, an infotainment center that spans the width of its cars.
The effect is always the same though — tech and cars come closer together. According to CNBC, Polestar doesn't even expect to be a smash hit in the smartphone market, which can only mean one thing: Polestar is a tech company and it wants us to know that. Ingenlath tells CNBC:
"Where you have an opportunity to link these two worlds, without any border ... then you can really have a seamless transition."
An Electric Trend
It's worth noting that Polestar isn't the only car company to start dipping its toes into the smartphone waters. Nio announced recently that it would develop its own smartphone from scratch.
And conversely, tech companies are already starting to wade into EV waters. Notably, Sony, in partnership with Honda, is pursuing its own brand of cars called Afeela. On an even more groundbreaking level, Apple has long been rumored to be in development of its own car, though those waters are even murkier.
Where the collision of tech and cars will lead us is anyone's guess, but one thing is for sure: it's time to buckle up.