7 Features We Want To See in a Redesigned 12-Inch MacBook
Apple should only revive the smallest MacBook it's ever made if it can include these improvements.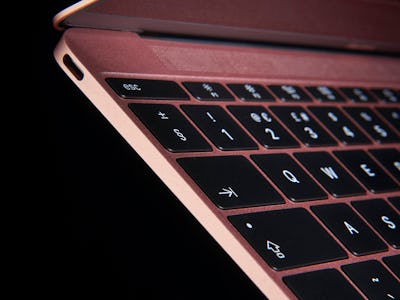 MacFormat Magazine/Future/Getty Images
The Apple rumor mill is as noisy as ever. The latest gossip suggests next week's "Scary Fast" event will be related to gaming on new Macs (MacBook Pros and iMac?) — a big initiative that Apple has been pushing hard this year.
But the rumor that has lit up my eyes today has nothing to do with next week's Mac announcements. There's chatter that Apple is working on a "low-cost" MacBook in 12- and 13-inch models, that could start around $700 or less to bolster declining MacBook sales.
I don't buy for a second that Apple will make a more affordable laptop than the 13-inch M1 MacBook Air, which retails for $899 but can be regularly found for $750-$800 on sale. What I do think is very possible is a new 12-inch MacBook powered by Apple silicon. While the two-pound laptop (now officially labeled "vintage" and not eligible for repairs or service by Apple) was not perfect, it was a favorite amongst road warriors. I counted myself as a 12-inch MacBook fan.
Whether it's really in the works or not, here's my wishlist of things for a new 12-inch MacBook.
7. Non-tapered Design
New products should look new. At a post-Jony Ive Apple, the company seems to be done with tapering its MacBooks. That means a new 12-inch MacBook would and should resemble an M2 13-inch MacBook Air, uniform aluminum chassis and all.
6. Thunderbolt USB-C port(s)
The old 12-inch MacBook had a single USB-C port that led to the coining of the term "dongle hell." Two USB-C ports would be wishful thinking, though, since the MacBook Airs have two and the MacBook Pros have three. I think if Apple were to make a 12-inch MacBook again, it'd still include just the one USB-C port, but make it Thunderbolt for faster data transfers. Believe it or not, the USB-C port on the 12-incher was only USB 3.1.
5. MagSafe Charging
Everyone knows how great MagSafe charging is compared to USB-C, especially if you're a klutz prone to tripping over a cable. If Apple doesn't want to add a second USB-C port, then at the very least give us MagSafe!
4. Apple M-series chip
There's no going back to Intel processors for Apple — it's all custom silicon from here on out. Geeks will want the most powerful Apple chip in the 12-inch MacBook, but let's be realistic: an M1 chip would suffice. Even today, three years after its debut, the M1 chip can run circles around most Intel chips in Windows-based laptops.
For a small laptop, the M1 chip would be more than enough. And because it's so power efficient, it wouldn't need a fan. If Apple could fit an M1 chip inside of the iPad Pro and iPad Air, it can do the same with a 12-inch MacBook, no problem.
3. 1080p Webcam
In 2023, the 12-inch MacBook's terribly low-res 480p is not adequate for any video calling, unless you want to look like a potato on FaceTime. I'd love a 4K webcam, but seeing as how no Macs have a built-in camera that's higher than 1080p, I'd settle for full HD.
2. A Good Keyboard
Loathed by almost everyone, people forget that the 12-inch MacBook was Apple's first laptop to use the infamous "butterfly" keyboard. Apple would eventually backtrack and return to good scissor-switch keyboards after a $50 million class-action lawsuit, but by then the littlest MacBook was already marching toward its grave.
With a non-tapered chassis, Apple could easily fit the bouncy scissor-switch keyboard found in its other MacBooks.
1. Bigger Battery
Because the tapered design made the 12-inch MacBook so thin, Apple had to create a custom-made "terraced" battery. This meant no space was wasted inside of the laptop; it also made the battery extremely expensive to manufacture.
The benefit of a straight and uniform base is that you can use more standard-sized (and thus, cheaper) lithium-ion batteries cut into rectangles. That uniformity also means more room for a larger battery, which means longer use on a single charge. I'll happily take longer battery life on a laptop that's designed for mobility.