Meta's Quest Headset Is Still VR's Best Chance at Getting Big
Even with Apple in the mix and the Quest Pro out of the gate, the Quest 3 is the headset to beat.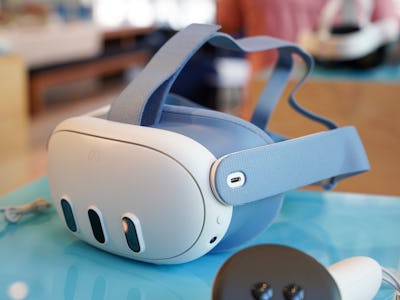 Photograph by Raymond Wong
If you love VR, AR, and mixed reality, and you don't love work, today is your lucky day.
Meta finally took the wraps off of its next-gen Quest 3 headset, the followup to the Quest 2, AKA the most popular VR headset ever made. Let that sink in: the Quest 2 is the most popular VR headset, not just now, but ever. Sorry, PS VR 2. Sorry, Nintendo. Meta has the belt.
And after today I'm convinced the Quest 3 — despite the incursion by Apple's Vision Pro, or even the efforts of Meta itself to sell you the much pricier Quest Pro — is going to continue its dominance, which is big not just for Meta's ambitions, but probably for the existential fate of VR hardware.
The quest to make VR big
If you wanted a major leap in Quest hardware, the Quest 3, by all definitions, is the jump you've been waiting for. Inverse's Ray Wong has the nitty gritty on all the upgrades in his Quest 3 headset hands-on, but in a nutshell, you're getting a lot more.
The biggest new thing you're getting is real, functional mixed reality. While the Quest 2 had a rudimentary level of passthrough (just crappy-looking enough to set up your play area), the Quest 3 beefs up the resolution to make a mixed reality experience that's actually playable.
That's important for a couple of reasons, one being that mixed reality just generally makes things better, especially when it comes to using apps or watching things. There's nothing wrong with fully immersing yourself in say, watching a football game, but shutting the entire world out isn't always the vibe you want. Same with using social media or watching YouTube. With functional mixed reality, you can have one foot in and one foot out like you would with watching anything, but on a much, much larger screen.
That's great for the overall utility and experience of using a Quest headset but also good for keeping up with what's now, for all intents and purposes, Meta's biggest rival in the VR space: Apple.
Apple's $3,500 spatial computer, the Vision Pro, is entirely built around the mixed reality experience. With the Vision Pro you're meant to take advantage of some of Apple's most crucial apps like FaceTime and even iMessage, but also more casual experiences like web browsing or watching a movie. Pretty much anything you do on a MacBook can be done on the Vision Pro.
While the Quest 3 doesn't quite achieve parity in terms of screen resolution with Apple's mixed reality headset, it marks a major move into the space at a much cheaper initial cost. The Quest 3 is $499. That's less than a quarter of the price of Apple's spatial computer.
Which brings me to my next point: accessibility. If there's one way to get people to buy something, typically it's beating competitors in the margins. Ask Amazon about that time it asphyxiated every big bookstore and became the king of e-commerce.
That's exactly what the Quest 3 does here. It combines the benefits of mixed reality and the polished VR experience of the Quest 2 (with much better graphics, by the way) in a package that might actually be in your budget.
And to sweeten the deal, the Quest 3 even focuses on what should be Meta's biggest priority right now: games. Yes there is still an unfortunate lack of blockbuster VR titles, but upcoming games like BAM and Assassin's Creed Nexus are clear commitments both from Meta and developers that games are still VR's biggest draw. If you're going to play VR games, there's only one headset to buy and it has nothing to do with Tim Cook.
An open question
We, of course, have not put the Quest 3 through all the paces despite getting some initial hands-on time with the headset, but on a surface level, this looks like the hardware to beat.
If you want to game? Quest 3. If you want a mixed reality experience that won't totally break the bank? Quest 3. If you want a headset from a company that has clearly made its intentions around making VR the next big thing, well Meta's Reality Labs reported a $13.2 billion operating loss last year, so... I think it's proven its point.
Meta's approach to VR may not be perfect — it gave us Horizon Worlds and all the work stuff, after all — but if there's one thing the Quest 3 proves, it's that Mark Zuckerberg's headstart is continuing to translate to a significant lead in the race to make VR big. Maybe Apple or Sony will close that gap, but for now, this is Meta's world and all other VR hardware is just living in it.