Nintendo Is the Jolt VR Gaming Desperately Needs
It's about time for Nintendo to show us how VR gaming should be done.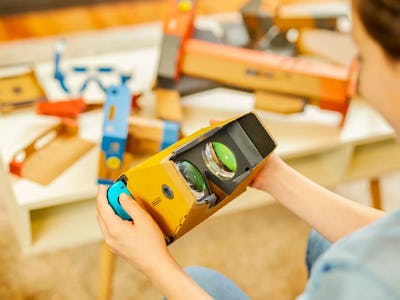 Nintendo
Virtual reality may be entering a renaissance with major players like Apple entering the fray, but I think most VR adopters agree that VR gaming could use a jolt.
With a rumor that Nintendo is looking to make its own standalone VR headset, there's at least a chance that VR fans could get just that.
MORE THAN A RUMOR
The rumor that Nintendo is entering the VR space comes from Nash Weedle, a leaker who accurately predicted Metroid Dread coming to Nintendo Switch a year prior to its actual release. Specifically, the rumor claims that Nintendo is working on a standalone VR device, separate from its potential successor to the Switch and that it's testing a prototype already.
To give more credibility to the rumor, a Redditor uncovered that Nintendo filed a patent in November 2022 that would allow a console to receive input from a VR headset. To be fair, patents are always flimsy evidence to go off of, but in this case, it seems worth noting at the very least.
WHO ELSE BUT NINTENDO
We admit that the rumor is thin, but that doesn't mean we can't be excited about a potential VR device from Nintendo. Besides, Nintendo is exactly the type of gaming stalwart we need to revolutionize the VR gaming space. It's big, important, and often fixated on fun instead of work... yuck.
Nintendo has previously dabbled with augmented reality on its consoles with its 3DS handheld and even released a DIY VR kit for its Switch. And while Nintendo didn't directly develop the smash AR hit Pokémon Go, the company definitely saw the value of the VR world when it comes to incorporating its popular titles.
It's not too hard to imagine Nintendo taking its design formula and applying it to a headset that would pair with its exclusive titles. Think about it: You'd get to waste a whole day looking for the perfect pic in Pokémon Snap; get lost wandering around in The Legend of Zelda: Tears of the Kingdom; invite friends to your VR island on Animal Crossing.
HEALTHY COMPETITION
We love Superhot and Beat Saber too, but if there's one thing VR needs, it's more blockbuster titles, and bringing Nintendo could do just that.
A VR gaming space with Nintendo in the mix could take advantage of a loyal fanbase and develop games that have that triple AAA title polish but still live within the technological restrictions of current headsets. It's a perfect match.
Besides, if Nintendo consistently delivered VR gaming home runs, it could also put pressure on companies like Microsoft, Sony, and Meta to keep up, and hopefully, that means anyone buying VR games wins in the end. It's hard to say for sure, but we're hoping this rumor turns out to be true, especially if Nintendo's grand entry is what takes the VR gaming space into its next golden age.