LG's Wild Briefcase TV is Now Available for $999 in the U.S.
For those who don't mind carrying around a 27-inch TV with them.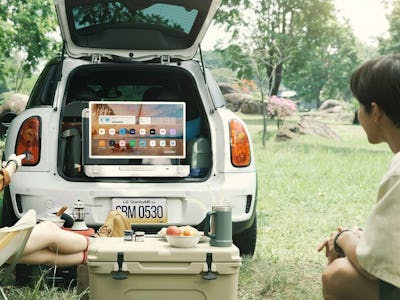 LG
We've reached peak portability levels for a TV. LG made its portable TV in a briefcase available in the U.S., after first releasing it in South Korea earlier this summer. The StanbyMe Go features a 27-inch touchscreen TV that can be collapsed into a briefcase, made for people who don't want to be stuck watching TV in a living room.
The Stanbyme Go definitely falls under the weirder TV designs that LG has released, like its first Stanbyme, a 27-inch TV on a stand with rollable wheels. However, this portable design does make it ideal for road trips, frequent travelers, or those who are just sick of traditional TVs.
GRAB-N-GO TV
Since LG first revealed the Stanbyme Go earlier this summer, the specs are no surprise. The U.S. version will use the same 27-inch LED touchscreen that will be attached to a stand inside the briefcase design. The 20-watt speaker inside will adapt to however the screen is oriented since you can set it up as landscape, portrait, or even as a table.
The Stanbyme Go gets three hours of viewing time with its built-in battery and the exterior handle on the briefcase means you can carry it around easily. The portable TV uses LG's webOS software but it still supports Apple's AirPlay and will be compatible with screen mirroring on iOS and Android devices. You can connect to the Stanbyme Go via Bluetooth or Wi-Fi, but you can also control it with voice recognition functions.
ONLINE EXCLUSIVE
LG made the Stanbyme Go available exclusively on its website, where it's up for preorder for $999.99. Until August 27, LG is trying to sweeten the deal by bundling in its Xboom 360 Bluetooth speaker that retails at $249.99. LG says the preorders for the Stanbyme Go will ship later this month.